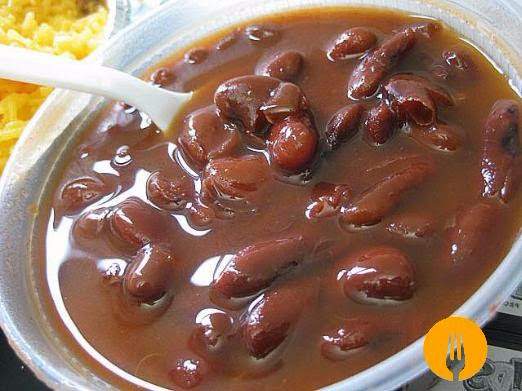 1 hours y 55 minutes
Calories: 110
Medium
4 people
You shouldn't miss one of the most traditional dishes of Spanish cuisine on this website - the stew of pinto beans with meat and chorizo (otherwise, they're not beans 😉).
Along with lentil stew with or without vegetables and the Madrid stew, these are among my favorite stews you must make on cold winter days, or whenever you feel like it, since it's highly recommended to have soup-based dishes at least two or three times a week.
Ingredients for Pinto Bean Stew for 4 people
Pinto beans (soaked for 12 hours with a pinch of salt) - 500 gr.
Green pepper - 1
Tomato - 1
Carrot - 1
Potato - 1
Water - 750 milliliters
Paprika - 1 tablespoon
Cooking chorizo (sweet or spicy, to taste) - 1
Serrano ham - 1 tip
Bacon (optional) - 1 piece
Black pudding - 1 piece
Pig's ear (optional) - 1/2
Fresh pork ribs or a knuckle - 300 grams
Onion - 1/2
How to make the recipe Pinto Bean Stew
Wash and peel the carrot, potato, onion, and pepper, and also rinse the beans. In a deep pot, pour water and add 1 garlic, all the washed vegetables, laurel, and pinto beans. Salt.
Additionally, add all the meat and chorizo (which we previously cooked in the microwave for 2 minutes to release excess fat), except the black pudding.
Once boiling, some foam will appear; remove it with a skimmer. During cooking, you might need to add more water if the mixture becomes too thick. Taste them, if they're hard, continue boiling.
Boil everything for about 1 hour and 30 minutes (or 20 minutes approximately in a pressure cooker).
After this, remove the pepper, onion, tomato, and potato from the stew and mash them. This way, the broth will retain all the flavors and nutrients. You can leave them whole if preferred or remove them.
In a small frying pan, add a splash of oil and the remaining 2 garlic cloves. Once golden, add the paprika and quickly stir while pouring the mixture over the beans. Be cautious at this step; if you fry the paprika too much, it can become bitter. Boil for 5 minutes with the seasoning and the black pudding.
Notes and Tips
My personal tip is to, when serving, remove all the meat from the stew; chorizo, black pudding, tips, and place it on a plate, cutting it into pieces. This way, you can enjoy the beans separately and the meat on the side. A traditional, delicious, and easy-to-make dish. I hope you enjoy it!
Latest posts by Cocina Casera English
(see all)
What to eat today? Search by ingredient or recipes