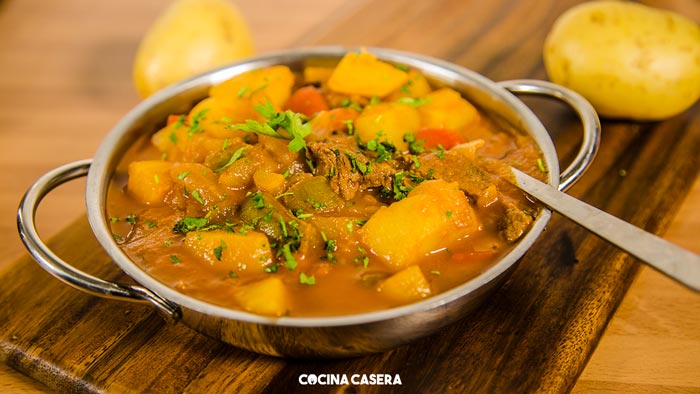 1 hours y 20 minutes
Calories: 207
Medium
2 people
We love stews, and it's no secret! Apart from this recipe of Potato Stew with Meat, we have other exquisite and just as easy ones like our Meat in Sauce recipe, a hearty dish that, accompanied by some delicious homemade bread, will make you feel like royalty without even leaving your home!
Ingredients for Potato Stew with Meat for 2 people
Potatoes - 5 units
Stew meat - 200 grams
Green Pepper - 1 unit
Red Pepper - 1 unit
Onion - 1 unit
Sweet Paprika - 1 tablespoon
Hot Paprika - 1 tablespoon
Tomato concentrate - 1 tablespoon
Salt - to taste
Pepper - to taste
How to make the recipe Potato Stew with Meat
Clean and chop the red pepper. Do the same with the green one. Clean and cube the onion. Clean and chop the potatoes.
Add a little oil to the pot and heat over medium heat. Add the vegetables and sauté for about 15 minutes until the onion is transparent.
Add the meat and increase the heat to sear it. Season with salt and pepper to taste. Stir and cook for a couple of minutes.
Add the paprika, tomato, and finally the potato and water. Let it boil for about 2 minutes and add the sweet paprika, hot paprika, and tomato concentrate. Add water until covered, cover the pot, stir and let it cook for approximately 1 hour.
Notes and Tips
As you can see, the recipe couldn't be easier, one of the purely homemade recipes that once you learn it, you can always make it whenever and however you want, adding your personal touch. We encourage you to share it on social media so that your friends or family can make it and also, give us your impressions or suggestions about the recipe ;)
Latest posts by Cocina Casera English
(see all)
What to eat today? Search by ingredient or recipes