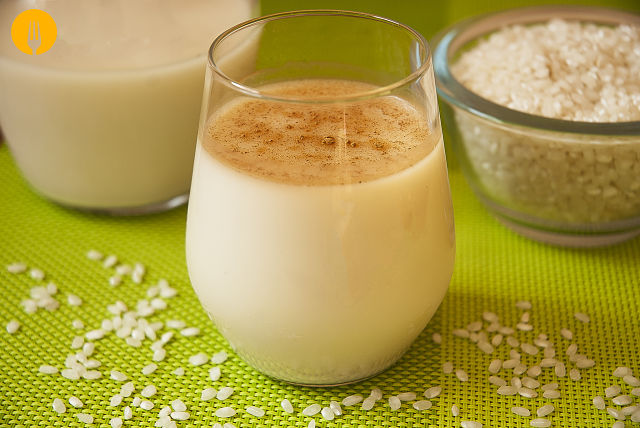 3 hours y 10 minutes
Calories: 200
Easy
2 people
Rice horchata is a very refreshing drink that has been traditionally prepared for decades in various Central American countries like Guatemala, Honduras, and El Salvador. It is also a typical drink in Mexico, being part of the traditional aguas frescas used to accompany meals or lunch. In today's recipe, we will teach you how to prepare it, so don't miss the step-by-step process, and you'll have it ready in no time. Also, check out the traditional tiger nut horchata recipe, a typical Valencian Community preparation.
The term 'horchata' comes from the Italian 'orzata', referring to barley, which was the cereal used to prepare a very nutritious and refreshing drink. Over time, barley was replaced by other ingredients: Cereals, almonds, tubers like tiger nuts, etc.
Rice horchata is usually made with refined sugar, powdered milk, vanilla, rice, and sometimes other ingredients like coconut, almonds, condensed milk, etc., are added to enhance its flavor and nutritional value. It is one of the most delicious dessert recipes.
The preparation of this recipe is straightforward and quick. The resulting drink is far superior to any commercial version. Don't miss it!
Do you want to know how to make a delicious rice horchata?
Ingredients for Rice Horchata for 2 people
White rice - 400 grams
Milk - 300 milliliters
Water - 1 liter
Cinnamon stick - 1 unit
Sugar - 150 grams
Ground cinnamon - for sprinkling
Liquid vanilla - 10 grams
How to make the recipe Rice Horchata
In a bowl, place the cinnamon stick and rice. Add water and let it settle for 2 hours.
After the soaking time, blend the bowl's contents with the help of an electric mixer's blade attachment. We must try to achieve the finest paste possible so that the milk we obtain is more concentrated in aroma and flavor.
Next, strain the mixture through a fine-mesh strainer.
We must press the rice paste to extract as much liquid as possible. We can use a soup ladle to help with this.
Once we have pressed the paste, add the liquid vanilla and sugar to the bowl where we have the liquid. Stir with a spoon to dissolve the sugar. Then, add the milk and mix again.
Once the horchata is ready, take it to the refrigerator and let it cool for several hours.
When serving, sprinkle some ground cinnamon on top.
Notes and Tips
We recommend consuming the horchata within a maximum of 2 or 3 days. During that time, you must keep it refrigerated.
Based on this recipe's step-by-step process, you can prepare all kinds of plant-based milks: tiger nut, oat, birdseed, etc.
You can prepare this recipe with any type of rice.
Latest posts by Cocina Casera English
(see all)
What to eat today? Search by ingredient or recipes