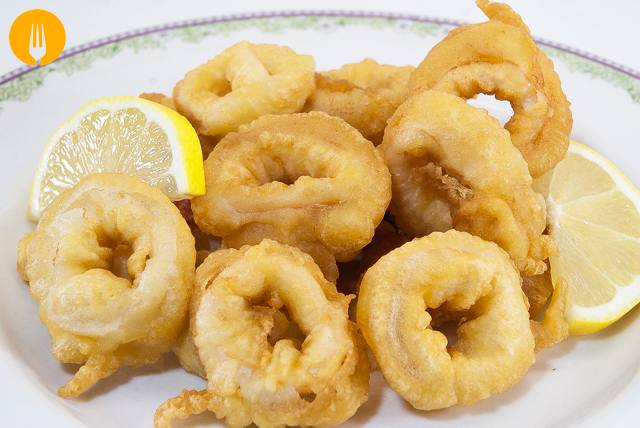 20 m
Calories: 205
Easy
2 people
We bring you a typical dish from many Mediterranean countries, which consists of battered squid, also called Roman-style. They are usually served as tapas or appetizers accompanied by lemon slices. Throughout Spain, there isn't a respectable bar that doesn't offer this delicious preparation. In some areas, it is also typical to serve them in a sandwich.
Squid is a popular ingredient in the cuisine of many other countries. It is very common to prepare it with typical sauces from the region. For example, in countries like Mexico, it is prepared with Tabasco or other spicy sauces, while in some regions of China, the squid is chopped and mixed with various ingredients such as chili, salt, and flour. In Peru, squid is served with boiled yucca, Creole sauce, and rocoto, which is a traditional spicy pepper in Peruvian cuisine.
To make this recipe, the squid is cleaned and cut into rings that, after being battered, are fried in plenty of oil. The batter is the key to achieving a great result. To prepare it, you can use wheat flour, or, if you want to add extra flavor, I recommend using chickpea flour. On this website, you can find several formulas for preparing different types of mixtures in which to batter various products, such as onion rings and battered artichokes. I suggest trying different recipes until you find the one that best suits your taste.
If you like dishes made with squid, you can find other recipes on our website, including stewed squid and squid in its own ink.
Ingredients for Roman-Style Squid for 2 people
Medium squids – 2 units
Egg – 1 unit
Wheat flour – 140 grams
Salt – to taste
Baking powder – 5 grams
Water – 150 grams
Olive oil – 10 grams
Oil – for frying
How to make the recipe Roman-Style Squid
For this recipe, we can buy cleaned and cut squid rings or whole squid. We have chosen to use whole squid to ensure the freshness of the product. To clean them, proceed as follows: carefully remove the tentacles without breaking the ink sac just behind the head.
Also remove the pen or shell, which is a transparent sheet that looks like a piece of plastic. Remove the beak, which is located at the center of the base of the tentacles. Remove the skin and fins. Turn the squid inside out by inserting a finger into the closed pointed end, the one closest to where the fins were.
With this action, we can easily wash the inside. After washing it, we dry it with absorbent paper and turn it right side out. Now it's ready.
Once we have the cleaned squid, we cut them into rings about one centimeter wide. If the fins are very large, we can also cut them in half.
Next, crack the egg, put it in a bowl, and beat it with a whisk.
Pour the water into the bowl and continue beating to mix it with the egg. Add the baking powder and salt and continue beating. Gradually add the flour, stirring with the whisk to incorporate it evenly and without forming lumps.
Once all the flour has been incorporated, pour the oil into the bowl and mix to incorporate it into the mixture.
Heat plenty of oil in a frying pan. If you can, use extra virgin olive oil.
Put a handful of squid rings in the bowl and mix with a spoon to coat them with the mixture.
When the oil is very hot, lightly drain a few rings and add them to the frying pan. It is important to fry the squid in batches. Cook them on both sides until they acquire a nice golden color.
Once they are ready, remove them from the pan and place them on absorbent paper. Within a few seconds, serve while they are still hot.
Notes and Tips
Once you have the cleaned squid, you can cut them into rings and freeze them to have them ready for any occasion.
It is important to ensure the oil is at a good temperature when frying, as if it is not hot enough, the batter will be absorbed, resulting in unappealing squid. In this regard, and to avoid a sudden drop in temperature during frying, it is important to fry the squid rings in batches.
This dish should be consumed freshly made, as the batter will soften over time, losing its characteristic crispy texture.
Latest posts by Cocina Casera English
(see all)
What to eat today? Search by ingredient or recipes