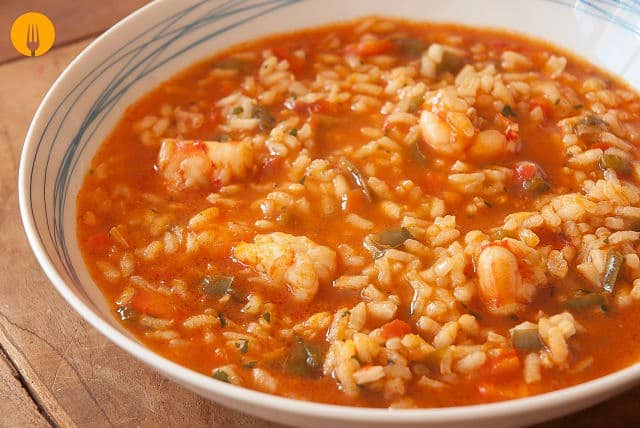 50 m
Calories: 163
Medium
4 people
Savory soupy rice is a dish cooked in a pot that allows a tasty broth to remain after the ingredients are cooked. This rice recipe is common in the kitchens of eastern Spain, where they are experts in giving the broth the right density of flavor and aroma. Although it's not a complex rice dish to make, it's necessary to know a couple of tricks that will make this homemade recipe perfect.
Ingredients for Soupy Rice for 4 people
Round grain rice – 500 grams
Prawns – 350 grams
Onion – 1 unit
Tomato – 1 unit
Garlic – 3 cloves
Red pepper – half a unit
Green pepper – half a unit
Fried tomato – 100 grams
Sweet paprika – half a tablespoon
Black pepper – a pinch
Salt – to taste
Olive oil
How to make the recipe Soupy Rice
The first step is to prepare the broth, so we peel the prawns and set aside the heads and skins. In a pot, we add two tablespoons of oil and add the heads and skin of the prawns that we will crush to release all their juice.
Next, we pour water until the pot is full and leave over medium heat for about 20 minutes. When the broth is ready, we strain and transfer to a clean pot that we will cover to keep it warm.
It's time to start with the sofrito but before a warning that is vital for the soupy rice to be just right. It's about the pot where we will first make the sofrito and then the rice, the ideal is a cast iron pot, but if you don't have one of these, use a deep frying pan or a pot of about 32 centimeters. Let's continue!
We add 5 or 6 tablespoons of oil to the pot and add the finely chopped onion and garlic. Then we add the peeled and chopped tomato and 5 minutes later the peppers cut into small pieces.
When the vegetables have poached we add the rice and the paprika. We mix well and pour the broth that we had prepared until the pot is full.
Next, we pour the fried tomato, the pepper, and the salt. We taste and if necessary add a little more salt. We let it cook until the rice is ready, but when there are five minutes left, we add the prawns. Then we let it rest for a few minutes and it's ready to serve!
Remember that the base of this recipe is the broth and the sofrito that we need to prepare, give each of these steps the time they need, lest by saving time we miss the best part of this dish, which is a delicious broth with a very tasty rice. You're not going to miss it, are you?
Latest posts by Cocina Casera English
(see all)
What to eat today? Search by ingredient or recipes