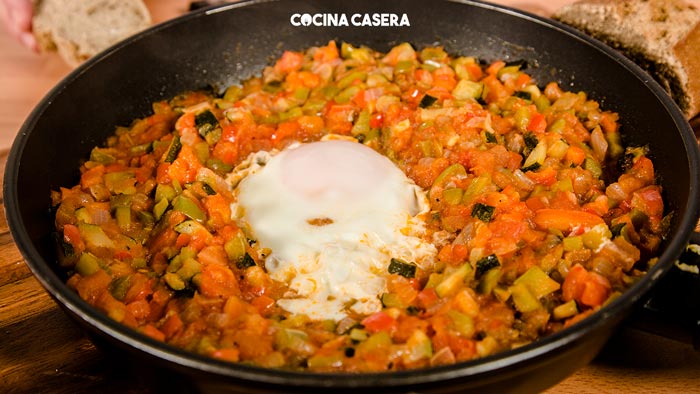 45 m
Calories: 154
Easy
2 people
Spanish Stew or Pisto Manchego  is a quintessential dish of Spanish cuisine, deeply rooted in the Mediterranean diet. Comprising primarily of vegetables, the key ingredient is the tomato. Its preparation can differ based on the region, but we've decided to include an egg, allowing diners the delightful experience of dipping into its yolk while also adding some protein. If you're not a fan of the egg, simply skip that step.
This dish can be enjoyed both cold and hot, often paired with fried eggs and a generous slice of bread, preferably homemade. However, it also complements grilled meat or fish, blends well with rice or pasta, makes a wonderful filling for empanadas, or even as a topping for a delightful pizza.
Given its ingredients, while pisto is a popular summer dish, it can genuinely be savored all year round. It's a veritable powerhouse of vitamins and nutrients beneficial to our health.
Although traditionally prepared in a skillet, if you prefer, it can also be baked. Roasting the peppers and removing their skin will enhance the dish's flavor, offering an aroma that's hard to achieve on the stove. Even the onion and zucchini can be roasted. Once roasted, they're all combined in a skillet, tomato sauce is added, and the mixture is simmered for a few minutes.
Ingredients for Spanish Stew for 2 people
Zucchini - 1
Onion - 1
Green Pepper - 1
Red Pepper - 1
Tomatoes - 3
Salt - to taste
Egg - 1
How to make the recipe Spanish Stew
Dice the zucchini.
Similarly, chop the onion.
Clean the peppers ensuring no seeds remain and dice them finely.
Blanch the tomatoes by marking a cross on their bottom, peel, deseed, and dice them.
Heat a skillet over medium flame, drizzle some oil. Once hot, add the vegetables except for the tomatoes and sauté for about 25 minutes.
Once the vegetables are translucent, stir in the tomatoes. Mix and let it cook for approximately 10 minutes.
Make a well in the center of the skillet, pushing the pisto to the sides, and crack the egg into it.
Cover the skillet and cook until the egg reaches your desired consistency. Sprinkle some salt and it's ready to be served with some delicious bread.
Notes and Tips
You can adjust the ingredient quantities as per your preference. Also, feel free to introduce various spices and herbs. For instance, a hint of sweet paprika, a touch of turmeric, ground black pepper, sprigs of thyme, rosemary, etc., can be added.
Latest posts by Cocina Casera English
(see all)
What to eat today? Search by ingredient or recipes