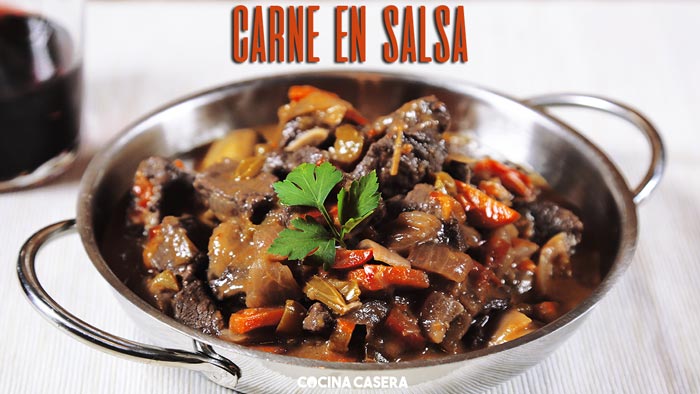 40 m
Calories: 120
Easy
2 people
On Homemade Cooking, we're crazy about stewed meat in sauce or homemade meat stew. We encourage you to enjoy this recipe.
This dish is perfect for tapas with a good red wine or as a main course accompanied by some crispy fried potatoes or deluxe potatoes.
Ingredients for Stewed Meat in Sauce for 2 people
Stew meat (like sirloin or flank) - 600 grams
Large Onion - 1
Garlic - 2 cloves
Carrots - 2
Red Bell Pepper - 1
Green Bell Pepper - 1
Large Mushrooms - 4 large or 6 small
Flour - 1/4 Cup
Red Wine (enough to cover) - 2 Glasses
Crushed Tomato - 1/2 cup
Salt - to taste
Pepper - to taste
How to make the recipe Stewed Meat in Sauce
Start by dicing the vegetables (garlic, onion, carrot, red and green bell pepper, and mushrooms) into pieces smaller than the meat
In a pot, add a bit of olive oil and the diced vegetables: garlic, onion, carrot, and bell peppers. Let them soften.
Next, clean the meat, ensuring there's no tendon or fat. This will result in a lighter dish and a smoother texture. Cut the meat into two-inch squares and season with salt and pepper. Mix well with your hands.
Once the vegetables are soft, add the mushrooms and meat. Brown everything together until the meat is seared.
Add the tomato, stir. Add the flour, stir, and finally add the red wine, stirring again. Cover and cook for 20 minutes over medium heat. Serve with fried potatoes, and you're done!
Notes and Tips
As always, we love hearing your opinions on the recipe. Let us know any improvements, missing ingredients, or new ingredients you'd like to add. Leave your comment, and don't forget to follow us for more delicious recipes! ;)
Latest posts by Cocina Casera English
(see all)
What to eat today? Search by ingredient or recipes