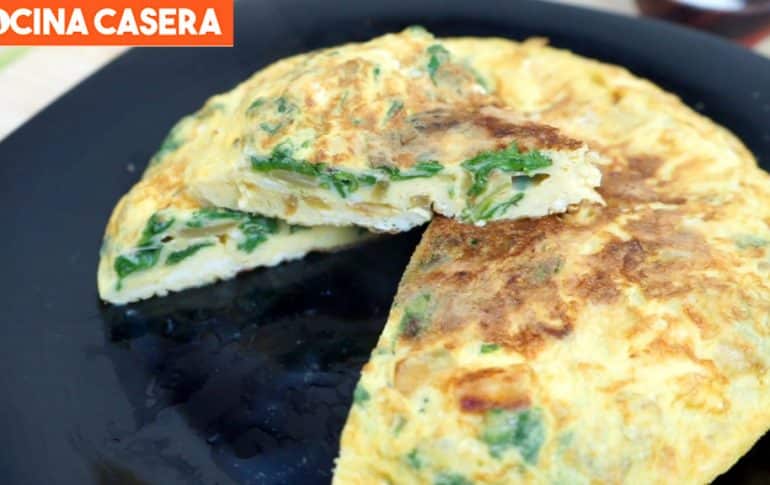 2 hours y 5 minutes
Calories: 118
Easy
4 people
Craving a Swiss chard omelette? Try this tasty recipe to add vitamins and antioxidants to your diet. Swiss chard is a great source of vitamin A and calcium. If you enjoy egg-based dishes, let Cocina Casera show you how to make this delicious omelette.
Swiss Chard Calories and Nutrients
Swiss chard is part of the Amaranthaceae family, like beets or betarraga. Like beets, it has been consumed for centuries, but tracing the origin of Swiss chard is more difficult as it was first classified as a subspecies. This vegetable provides 30 calories, 0.20 grams of fat, and an impressive amount of vitamin A, at 335 ug! It also contains vitamin C, with 19 milligrams. Like spinach, which has 3.30 milligrams of iron, Swiss chard is rich in calcium, with 105 milligrams.
Swiss chard contains 380 mg of potassium and vitamin K. Potassium is an electrolyte that transports electrical impulses and influences many bodily processes, such as proper digestive function and heart health.
Ingredients for Swiss Chard Omelette for 4 people
Swiss chard - 500 g
Onion - ½ unit
Garlic cloves - 1 unit
Eggs - 4 units
Extra virgin olive oil - 3 tablespoons
Salt - to taste
Pepper - a pinch
How to make the recipe Swiss Chard Omelette
Wash the Swiss chard, drain, and remove the ribs. Then chop into small pieces. A quick and nutrient-preserving method for cooking chard is in the microwave. Place the chard in a microwave-safe dish, add 3 tablespoons of water, cover the dish with a lid or an upside-down plate. Cook for 4 minutes and let it settle for another 2 minutes. Drain properly to remove any remaining water.
While the chard is cooking, dice the onion and garlic. Add extra virgin olive oil to a skillet, sauté the onion for two minutes, then add the garlic and cook for another minute and a half.
Ensure the chard is drained and add it to the skillet (being careful not to burn yourself). Lower the heat and sauté the chard for about 4 minutes or until cooked to your liking.
Meanwhile, beat the eggs in a bowl, and gradually pour them into the skillet. Season them with salt and pepper.
Let the omelette set, then tilt the skillet slightly and pour the excess oil into a glass or container. Use a lid or plate to flip the omelette, return the oil to the skillet, and cook for a couple of minutes until it turns golden to your liking.
Turn off the heat and place the Swiss chard omelette on a plate lined with paper towels. Let it settle for a few minutes before serving.
Notes and Tips
You can add diced ham or chorizo to the recipe if you prefer a more intense flavor.
Latest posts by Cocina Casera English
(see all)
What to eat today? Search by ingredient or recipes