Tomato Salad with Burrata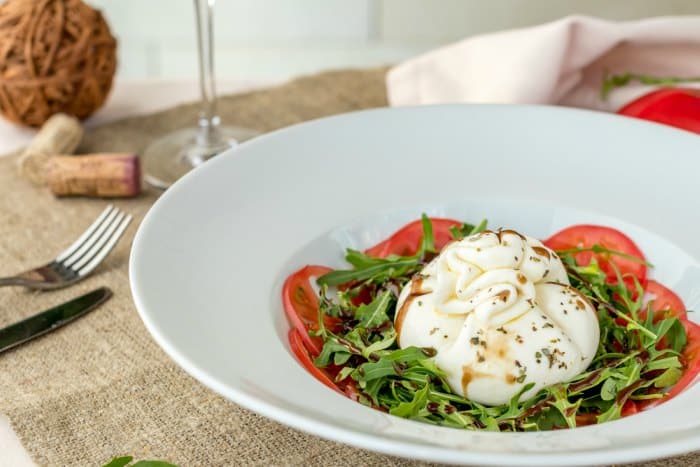 10 m
Calories: 230
Easy
4 people
A recipe with the colors of the Italian flag. Tomato salad with burrata, ready in less than ten minutes. Combine the creamy texture of burrata cheese with cherry tomatoes, arugula, and oregano. If you enjoy tasting salad recipes from different parts of the world,  on this website we show you how to make tomato salad with burrata cheese.
How is burrata cheese made?
Burrata cheese is a 'cousin' of Mozzarella, but its texture is creamier and it's characteristic of the southern region of Italy, Apulia. It has a very soft flavor, perfect for salads and pastas. The original was made in 1956 in the city of Andria, hence there is a PGI (Protected Geographical Indication) for 'Burrata di Andria'. This cheese is made from cow or buffalo milk. The milk is coagulated at a temperature between  100.4- 102.2°F. After draining the whey, it is reduced to 'threads' and allowed to rest for 24 hours. The result is a spherical cheese with a diameter of about 10-12 cm and a weight ranging from 100-1000 grams. Its color ranges from creamy white to straw yellow.
Tomato salad with burrata
Burrata cheese 'pairs' perfectly with fruits like pear or quince, as well as tomatoes and peppers. Light beers and light white wines are the best choice to accompany burrata recipes.
Ingredients for Tomato Salad with Burrata for 4 people
Burrata – 300 g
Arugula leaves – 200 g
Tomatoes – 2 units
Salt – to taste
Pepper – to taste
Dressing
Extra virgin olive oil – 3 tablespoons
Balsamic vinegar – 2 teaspoons
Dried oregano – ½ teaspoon
Garlic clove – 1 unit
How to make the recipe Tomato Salad with Burrata
In a bowl, add water and a few drops of vinegar (it has bactericidal power). Immerse the arugula and tomatoes for a couple of minutes. Drain well, leave in a colander for a few minutes until completely dry.
Slice the tomatoes and arrange them on a plate, add the arugula on top.
Season with salt and pepper to taste.
Prepare the dressing by mixing all the ingredients in a container with a lid (finely chop the garlic). Close the lid and shake, drizzle the salad with this dressing, and mix. Once mixed, place the burrata cheese in the center.
Notes and Tips
This salad is very tasty if, in addition to dried oregano, you add 15 or 20 slightly torn mint leaves (to release more aroma). Did you like the recipe?
Latest posts by Cocina Casera English
(see all)
What to eat today? Search by ingredient or recipes