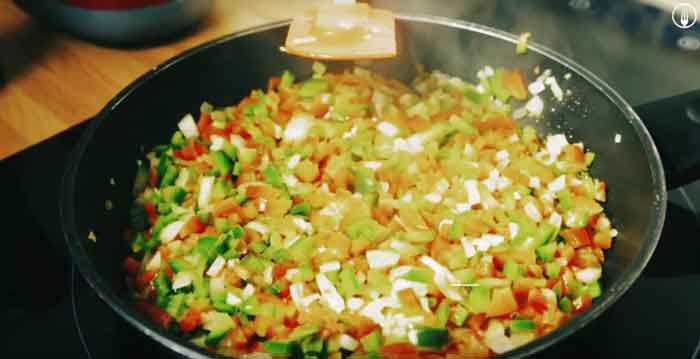 30 m
Calories: 237
Easy
2 people
Today, we want to show you how to make a vegetable stir fry with which you can prepare numerous recipes for sauces, rice dishes, and stews. Although making a stir fry is not complicated, it is important that you follow the steps exactly to give your dishes an exquisite taste. As this recipe can vary depending on the dish for which it is required, take a look at our easy and homemade stir fry with which you can flavor your meals in no time. Shall we cook?
stir fry constitutes one of the essential bases for our cooking. A typical sauce that we can use in our meats, fish, paellas, fideua... With these brief steps, we explain how to make a stir fry in the simplest way. We hope you find it useful!
Ingredients for Vegetable Stir Fry for 2 people
Onion - 1 unit
Carrot - 1 unit
Green pepper - 1 unit
Red pepper - 1 unit
Garlic - 2 cloves
Natural tomato - 1 unit
Salt - to taste
Olive oil
How to make the recipe Vegetable Stir Fry
To start, peel the onion and chop it into very small pieces.
Next, clean the green pepper and chop it as finely as possible, then do the same with the red one.
We heat the pan and add a splash of oil, once it is hot we add the vegetables we have cut and let it sauté for about 10 minutes.
While the vegetables are poaching, we cut the carrot and garlic, add them, and let them sauté for another 10 minutes.
Finally, peel and crush the tomato in a grinder or by hand with a mortar and add it to the pan, add salt, and let it sauté for 5 more minutes.
Notes and Tips
If you want to give the stir fry a more intense flavor, add one or two tablespoons of concentrated tomato and a touch of ground black pepper or any other spice you like. The secret to getting this recipe just right is to cook over medium heat so that the ingredients are neither fried nor dry and to stir frequently.
Latest posts by Cocina Casera English
(see all)
What to eat today? Search by ingredient or recipes