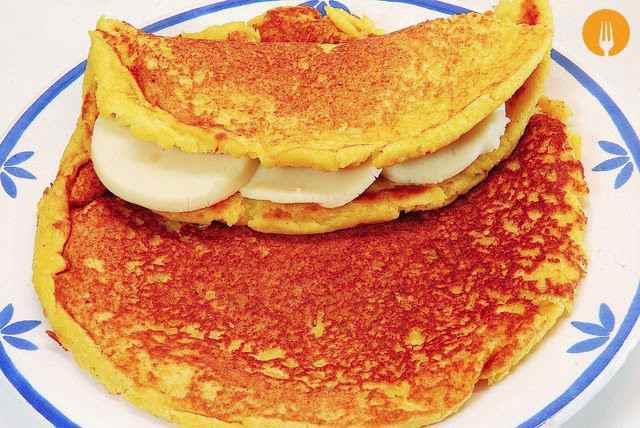 1 hours y 5 minutes
Calories: 173
Easy
2 people
The cachapa is one of the most popular dishes of Venezuelan and Colombian cuisine. It consists of a rustic corn cake made with tender corn and a few more ingredients. It is believed to have originated in the central region of Venezuela and was first made by indigenous people. This corn cake is known as cachapa de budare. The budare is a circular clay or cast iron griddle on which the cachapas are cooked. Once cooked, they are served hot with ingredients such as cheese, butter or margarine, and ham.
On this website, we have prepared a version of this Venezuelan cachapa with accessible ingredients to everyone. Although we would have liked to use tender corn to be faithful to the original recipe, we could not find it in the country that we live (Spain) at this time, so we used canned cooked corn, resulting in a cachapa with an extraordinary taste and a wonderful texture.
In our website, you can find other pancake recipes cooked in a skillet, such as our delicious homemade crepes or crepes with whipped cream or heavy cream.
Ingredients for Venezuelan Cachapa for 2 people
Egg – 1 unit
Wheat flour – 20 grams (2 large tablespoons)
Sugar – 15 grams (1 large tablespoon)
Pre-cooked corn flour – 30 grams (3 large tablespoons)
Butter – 15 grams (1 large tablespoon)
Salt – 5 grams (1 small tablespoon)
Yeast – 1 small tablespoon
Canned cooked corn – 450 grams
Milk – 150 grams
Sliced cheese – to taste
Butter – to grease the pan
How to make the recipe Venezuelan Cachapa
First, drain the canned corn. We must remove as much water as possible so that the dough does not have an excess of liquid.
Once drained, place the corn in a medium bowl. Add the rest of the recipe ingredients to the bowl.
With the help of an electric mixer, blend all the ingredients until you get a rustic-textured paste, in which some corn pieces are still visible.
When the dough is ready, cover the bowl with plastic wrap and refrigerate for 1 hour.
After the settling time, remove the bowl from the refrigerator. Heat a skillet with a lightly greased base with a little butter.
When the skillet is hot, distribute a good amount of dough in the center of the skillet. To do this, you can use a soup ladle. Spread the dough a little until you have a pancake about one centimeter thick.
Cook for a few minutes on both sides over medium heat. Turn it over when it is golden brown on the bottom and has some consistency on the top.
Repeat the process with the remaining dough, greasing the skillet between cachapas if necessary.
As soon as you remove the pancakes from the skillet, spread them with a little butter or margarine, fill them with sliced cheese (or another ingredient), and serve it hot.
Notes and Tips
If you have trouble weighing some ingredients and feel more comfortable using cups and tablespoons as a measure, we invite you to read our article on how to carry out the conversion of weights and measures. If you can use cachapa mix instead of pre-cooked corn flour, do it, the result will be even better. You can also use arepa mix.
It is important to make pancakes that are not too large, as they would break when trying to turn them over due to their tenderness.
Latest posts by Cocina Casera English
(see all)
What to eat today? Search by ingredient or recipes