Pasticho Venezuelan Style Lasagna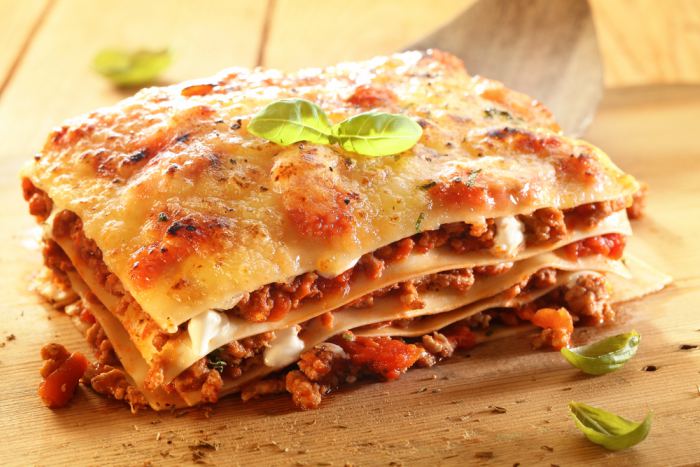 35 m
Calories: 250
Easy
4 people
The Venezuelan meat pasticho is a version of lasagna, very similar but with its own recipe, incorporating cooked ham, tomato sauce, and béchamel. There is no single pasticho recipe, and sometimes lasagna sheets are replaced with eggplant, as in moussaka. If you like international pasta recipes, Cocina Casera will guide you through the step-by-step Venezuelan pasticho.
It is basically lasagna, but when this dish arrived in Venezuela thanks to Italian immigration, its name changed. After World War II, many Italians emigrated to Venezuela, creating various businesses, including Italian restaurants.
The reason why it is called pasticho instead of lasagna is not known for certain, but local adaptations of words from another language ('Lasagna') likely led to the use of this term. Today, it has become a traditional and highly valued dish in Venezuelan homes.
Ingredients for Venezuelan meat pasticho for 4 people
For the meat pasticho
Lasagna pasta - 1 box or 18 sheets
Mixed minced meat - 400 g
Cooked ham - 150 g
Onion – 1 unit
Garlic cloves - 2 units
Green pepper – 1 unit
Extra virgin olive oil – 2 tablespoons
Bay leaf – 1 leaf
Red wine – 125 ml
Fried tomato – 200 g
Oregano – ½ teaspoon
Powdered cheese – 60 g * optional
For the béchamel sauce
Flour - 60 g
Butter - 60 g
Milk - 400 ml
Nutmeg - a pinch
Pepper - to taste
Salt - to taste
How to make the recipe Pasticho Venezuelan Style Lasagna
Choose pre-cooked lasagna or pasticho sheets to make preparation easier. Just place them in hot water and soak for 7 minutes.
Peel and chop garlic and onion, chop green pepper. Add olive oil to a pan and when hot, sauté onion and garlic for two minutes, then add green pepper and cook for three minutes.
Next, add minced meat and bay leaf, lower heat, cover the pan to prevent splattering, and let the meat cook for two or three minutes.
Then add wine, oregano, some salt, and pepper. Cook until slightly reduced over low heat.
Once reduced, add the tomato. If using fried tomato, there's no need to add sugar; if using natural crushed tomato, add a little sugar to neutralize acidity.
Let the filling settle and, meanwhile, prepare the béchamel sauce for the pasticho or lasagna. Sift the flour with a sieve to ensure it's smooth. To make the béchamel right the first time, use the two-pan formula (it's very easy).
First, dissolve all the flour in half a cup of milk (125 ml). Add the remaining milk to a saucepan (275 ml remaining). Have another pan or container ready with the butter, and place both pans over low heat.
When the butter melts, add the 275 ml of milk and the glass with the flour dissolved in milk to the pan. Stir everything with a whisk. Add a little nutmeg, pepper, and salt.
When the sauce thickens and comes to a boil, remove from heat.
Assembling the meat pasticho is very easy: first, a layer of lasagna pasta, followed by a layer of meat and tomato filling, another lasagna sheet, and cooked ham, alternating between filling and cooked ham layers. The last layer should be a lasagna sheet to hold the béchamel properly.
Pour the béchamel over the lasagna and broil in the oven at 356 degrees Fahrenheit for 10-15 minutes. If you want to add cheese, open the oven halfway through cooking and add it.
Notes and Tips
You can create your own pasticho fillings by substituting minced meat with chicken breast or tuna.
Latest posts by Cocina Casera English
(see all)
What to eat today? Search by ingredient or recipes