Warm Gulas® and Shrimp Salad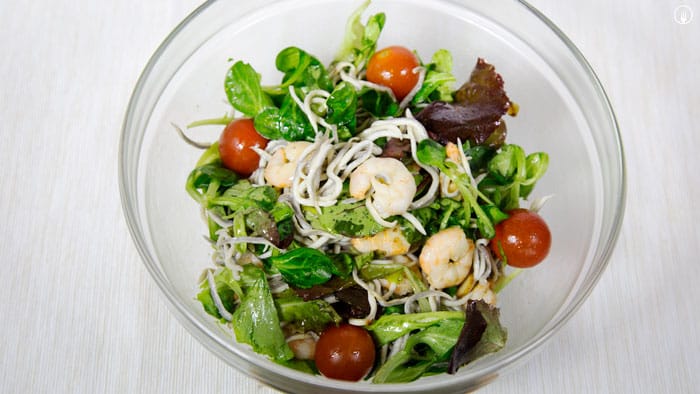 15 m
Calories: 230
Easy
2 people
If you want to try a different salad now that the warm weather is starting, don't hesitate to make this warm Gulas® and shrimp salad. It's very easy; all you need to do is buy a bag of mixed lettuce, some peeled shrimp, and a package of Gulas®. The preparation won't take you more than ten minutes, and we assure you the result is worth it. Another salad that almost everyone loves is the Caesar salad. If instead of seafood you fancy chicken, take a look at our recipe and enjoy a fresh dish on hot days... Are you in?
Ingredients for Warm Gulas® and Shrimp Salad for 2 people
Mixed salad greens
Peeled shrimp - 50 grams
Gulas® - 50 grams
Cherry tomatoes - 10 units
Sliced garlic
Salt - to taste
White wine vinegar - a splash
Olive oil
How to make the recipe Warm Gulas® and Shrimp Salad
Start by peeling and slicing the garlic.
In a pan over medium-high heat, add the garlic, let it brown well, and then add the shrimp.
Sauté everything together and add the Gulas®. Sauté again, let it cook down for about two minutes, and remove from the heat.
In a bowl, add the mixed salad greens and cherry tomatoes. Dress the salad with olive oil and salt and mix well.
Finally, top with the Gulas® and shrimp and our warm Gulas® and shrimp salad is ready to serve!
Notes and Tips
Although this salad is delicious as prepared, you can add other ingredients such as fruits and vegetables. Some people choose pomegranate or peach. Also, for the dressing, you can get other flavors using some balsamic vinegar – variety is the spice of life...
Latest posts by Cocina Casera English
(see all)
What to eat today? Search by ingredient or recipes