Typical Ecuadorian Food and Dishes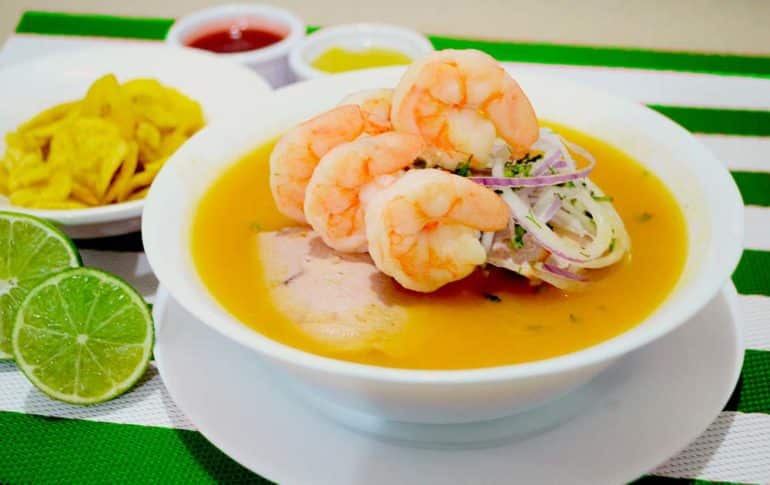 Roasted guinea pig, empanadas de viento, or morada cola and bread guaguas, are typical dishes of Ecuador. Ecuadorian gastronomy has influences from Spanish cuisine, from the indigenous peoples who occupied Ecuadorian territory as well as neighboring countries like Peru or Colombia. In another article from Eat and Travel, we explored the cuisine of Bolivia, today we go to Ecuador.
Ecuadorian gastronomy is characterized by a wide variety of ingredients, dishes, and ways of preparing those recipes. As it is such a large and diverse country, we are going to separate the most important typical meals according to the regions.
Coastal and Galapagos region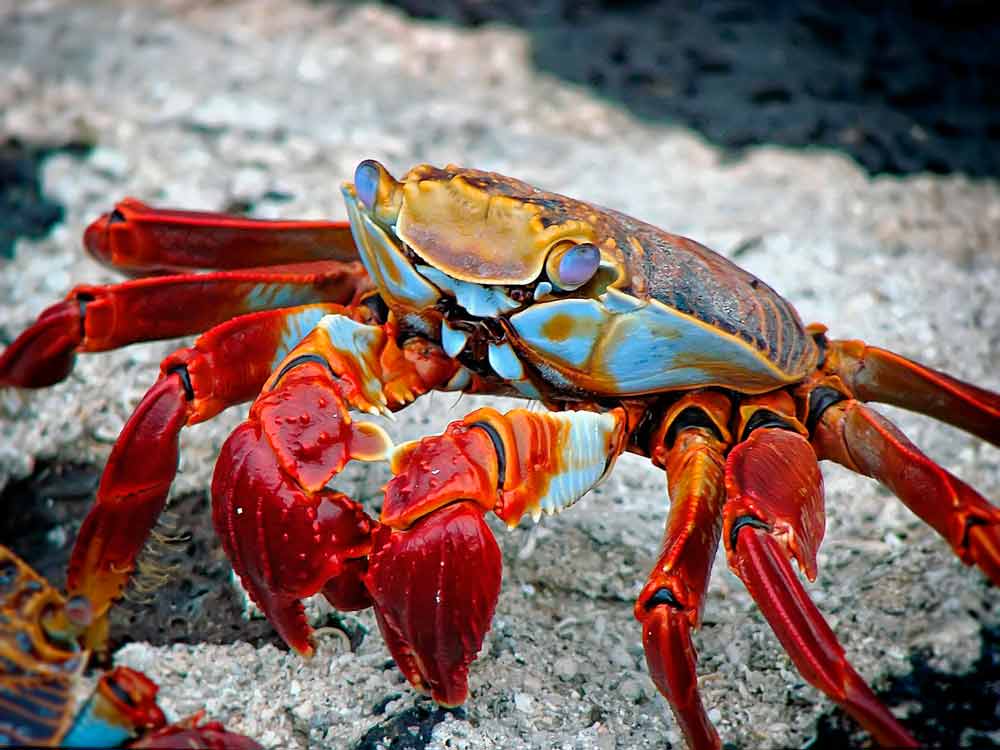 In the coastal area, seafood dishes are very common, as they are where they are most fresh.
Chaulafán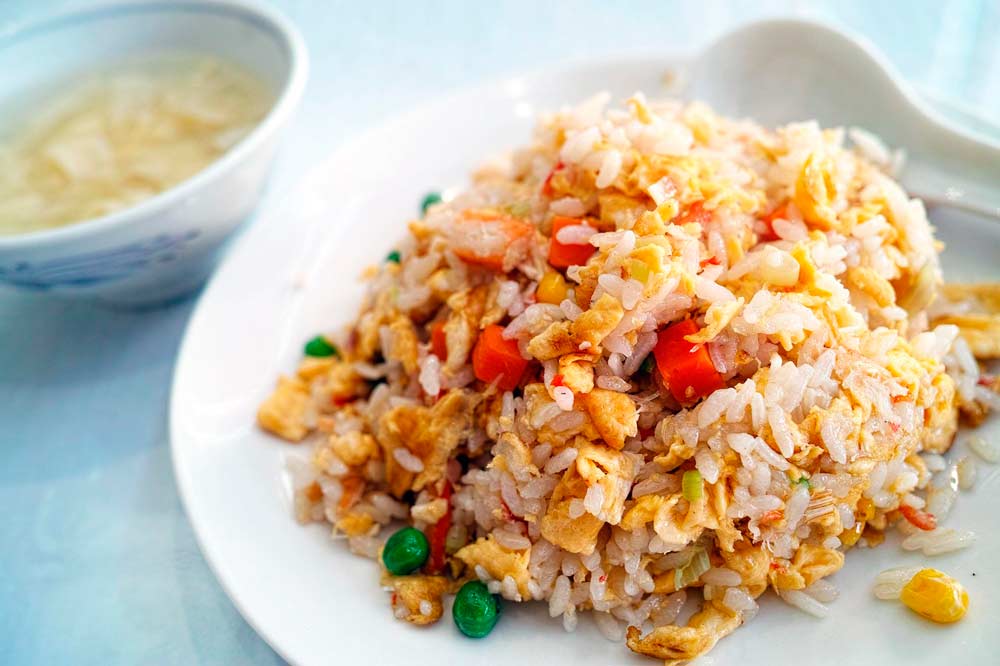 Chaulafán is a very complete dish whose base is rice. Its origin dates back to the first wave of Asian immigration that arrived in Ecuador. These immigrants used the leftovers from fritters and other meals to add rice to them. This way, you get a dish made up of rice, meat, vegetables, fish, eggs, soy sauce…
Chaulafán is usually the main or only dish in restaurants in some Ecuadorian cities. For example, Quevedo is recognized as the place where this dish was created and has already established it as its typical dish.
Ceviche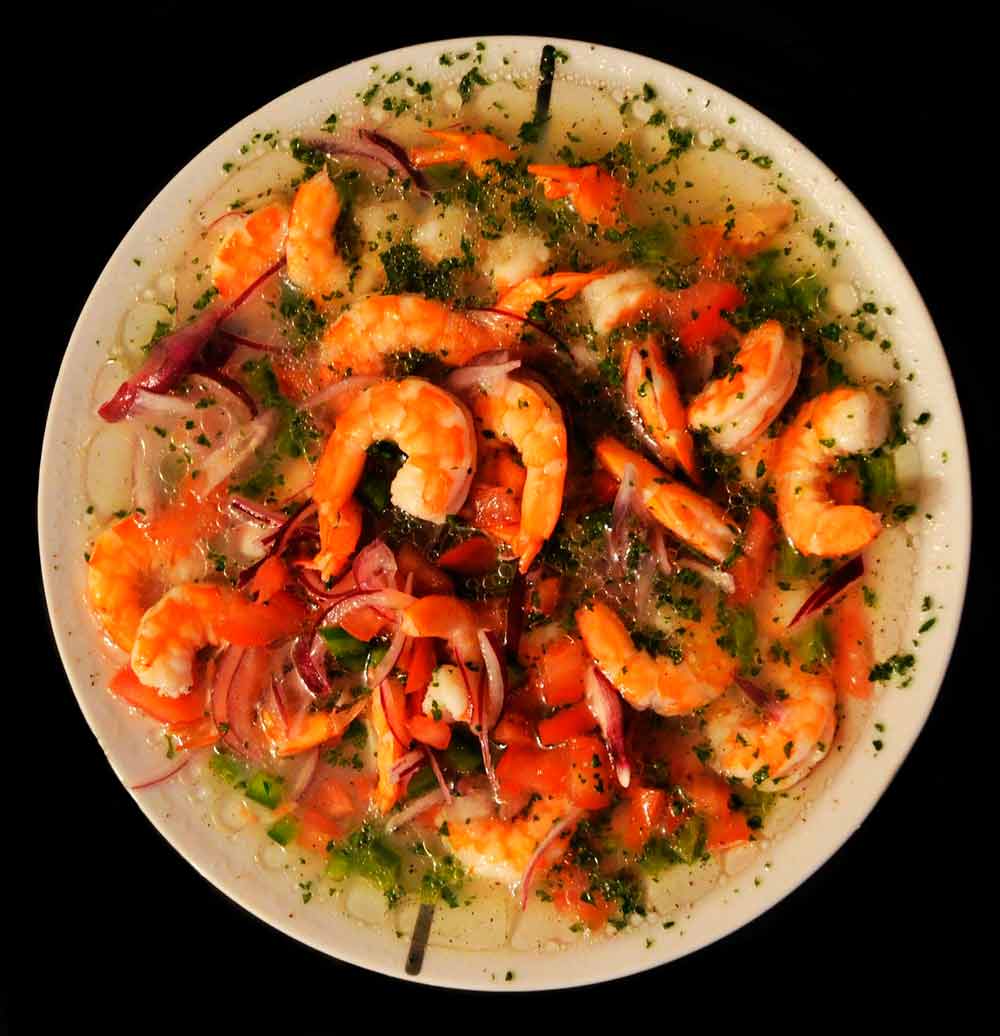 Also known as cebiche, both forms are correct. Ceviche is a very popular dish of raw seafood. It has many varieties, it can be shrimp, fish, shell, squid or mixed. In addition, it contains lemon, orange, tomato sauce, tomato, onion and coriander. In the case of shrimp, they are already cooked. However, when the ceviche is fish, it is "cooked" with the acidity of the lemon. Each person and in each place have their own way of preparing it.
Encebollado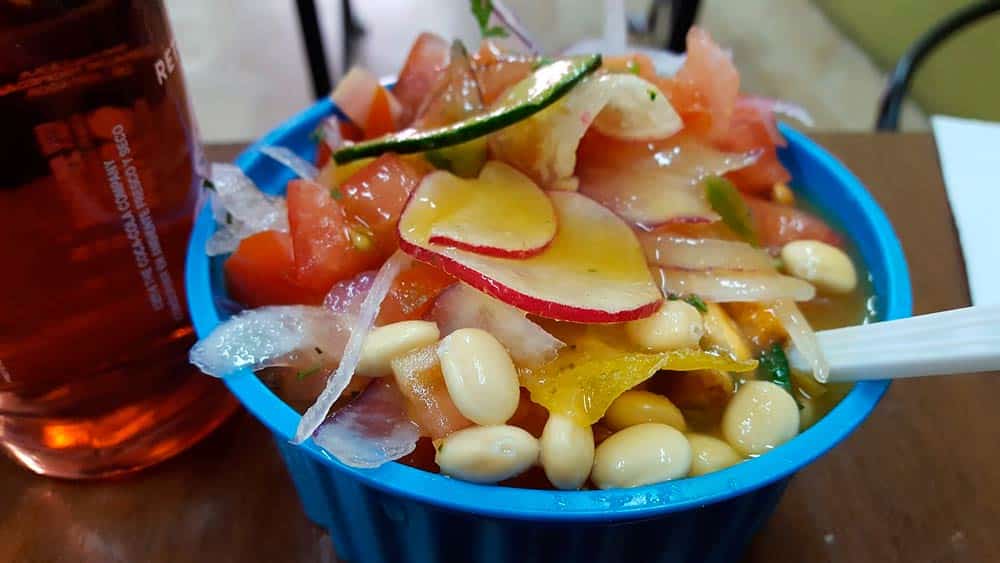 Encebollado is a very typical recipe from Ecuador, specifically from the coast, and is considered one of the best dishes in the country. The recipe consists of a fish soup that contains yucca, onion, tomato, ají, and spices. Normally the fish used is usually albacore or bonito.
Both ceviche and encebollado are the most important dishes on the coast due to the freshness they provide. They are usually more appetizing when consumed in a hot and humid area.
Guatita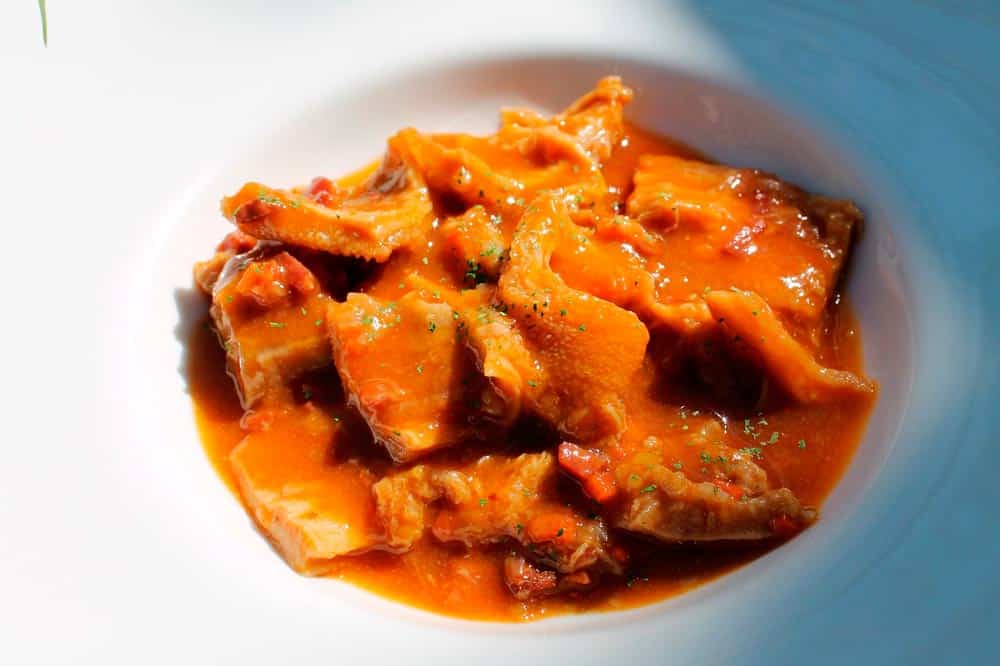 Guatita or guata is a delicious stew that is usually cooked with mondongo or librillo (small pieces of cow's stomach, tripe). It is cooked with potatoes and peanut sauce and served with rice and curtido. For those who try it for the first time, they may be hesitant or surprised by the texture of the tripe and the appearance of the dish. However, once it has been tasted, it is a dish that people love and that they will crave whenever it is mentioned or seen.
Caldo de bola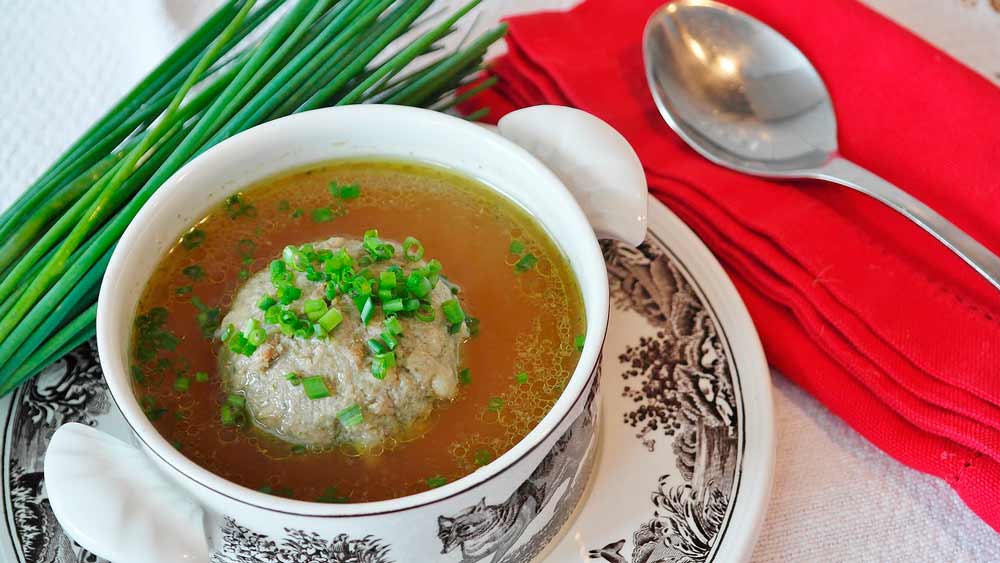 This dish is a typical soup from the Ecuadorian coast. Among its ingredients are oxtail, beef broth, and a touch of peanut. However, the most characteristic ingredient is the green balls. These balls are small pellets made with green banana dough (hence the name) and filled with meat and vegetables. They are usually prepared in advance or at the same time as the rest of the ingredients and give the soup a very characteristic flavor.
Corn and yuca are also usually added to this broth.
Seco de carne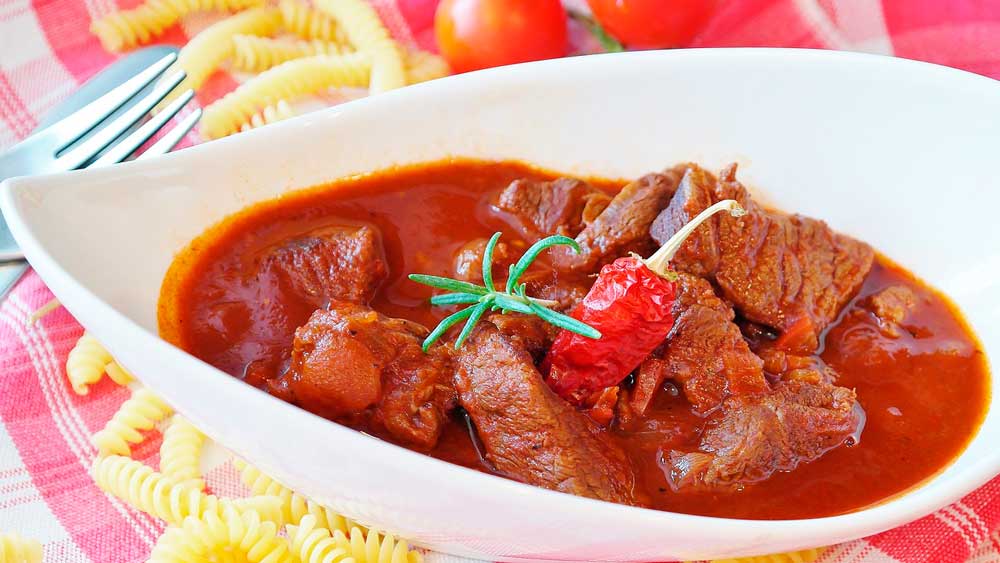 The word seco usually corresponds to "stew", and the meat can be of many types. Seco de chivo, seco de pollo, seco de carne, seco de chancho, de pato… There is a lot of variety and many ways to cook it. The most common way to cook it is with onion. It is usually served with rice, potato, salad or menestra. It is one of the most ideal dishes to go with rice because it tends to always be very juicy.
Mountain region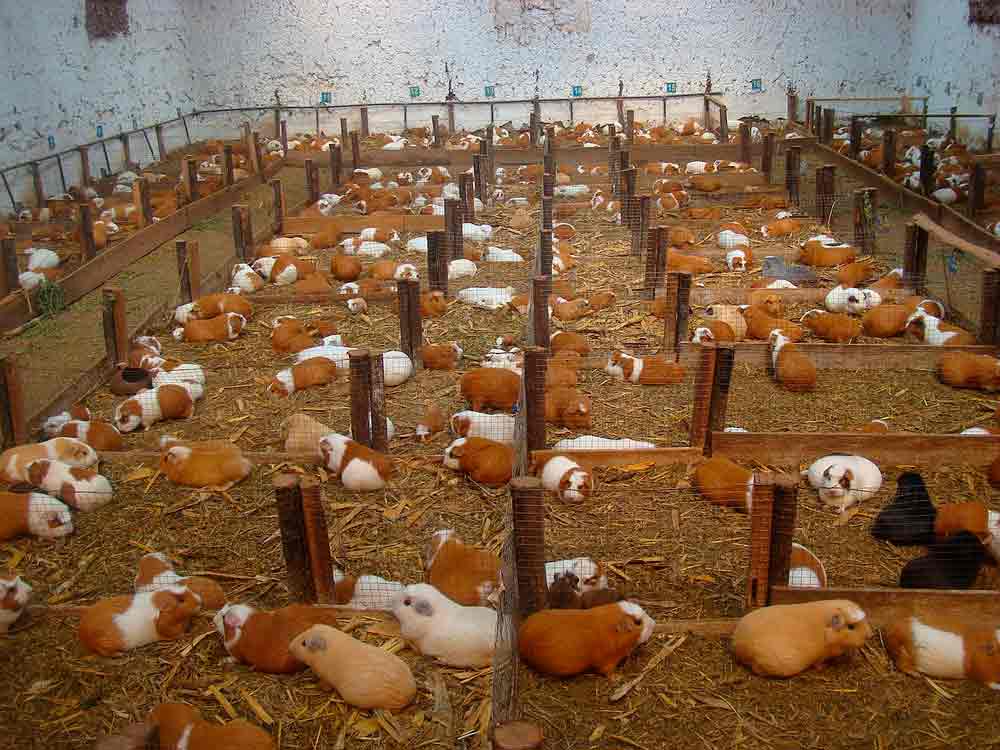 In this region, they are more adventurous with meats. For example, one of the most characteristic dishes is roasted Cuy, which is prepared with the eponymous animal; or the Mishqui tripe, whose main ingredient is cow's intestines.
Tripas Mishqui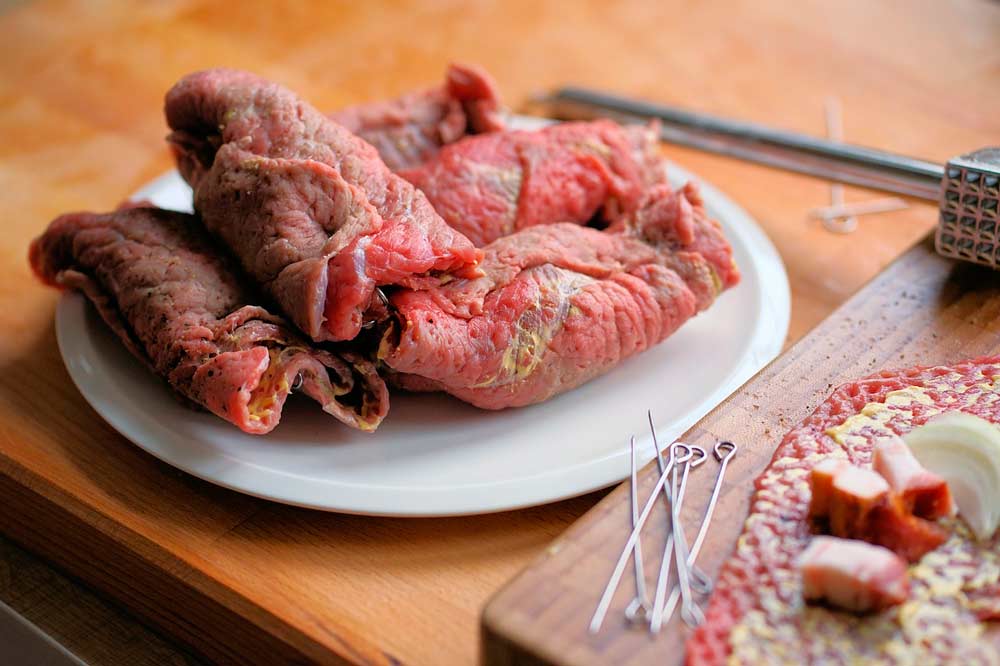 "Mishqui" tripe is a typical dish from the city of Quito. It is prepared with beef tripe (cow's tripe) and with different ingredients such as: garlic, lemon, annatto, potato, and ground peanuts.
This is a dish that is greatly enjoyed by those living in this city. What characterizes it the most is the peculiar texture that it achieves. It is usually accompanied by a typical drink such as chicha.
Fanesca
Fanesca is a typical dish from the highlands composed of grains and fish. It is eaten mainly during the Holy Week. It contains peas, beans, corn, beans, egg, green banana, and spices.
Fanesca has a Christian meaning. The grains represent the apostles while the cod represents Jesus Christ.
Cuy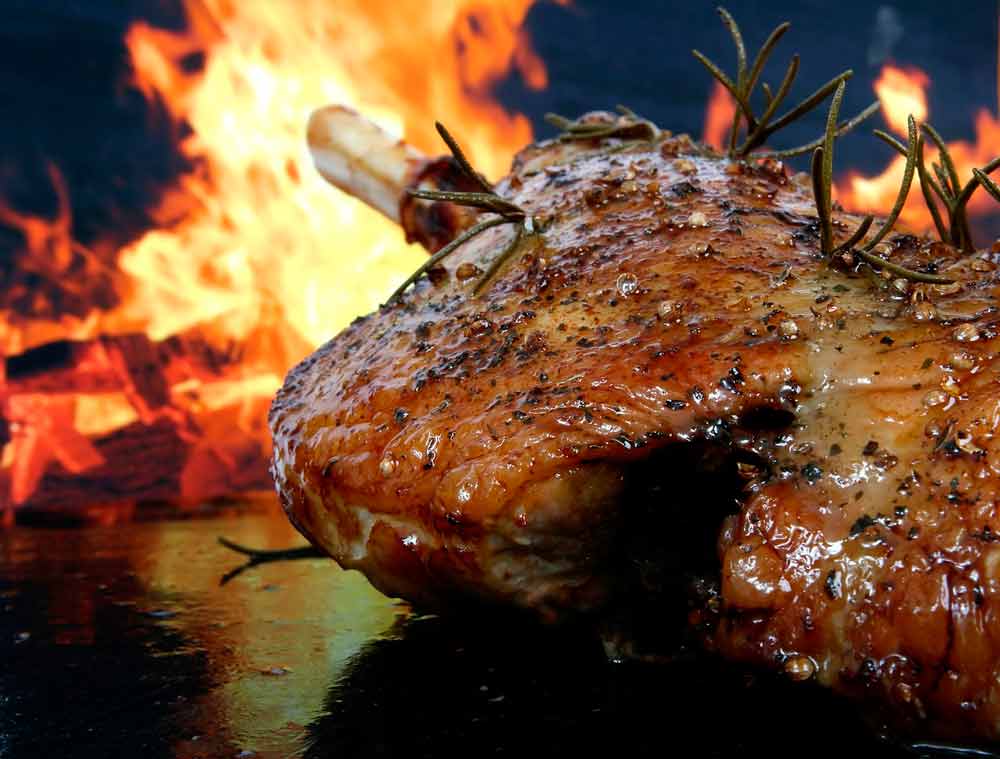 The cuy or guinea pig is an edible rodent in Latin America. It is very common due to its high protein level and its low fat and cholesterol level. There are different ways of cooking it, including: roasted cuy with potatoes.
Hornado
Hornado is a typical dish of the Ecuadorian highlands. The name comes from the word "baked". It consists of pork roasted and served with potatoes, corn, banana, and avocado. The preparation of this dish varies depending on where it is prepared, as there are many ways.
Fritada
Fritada is also a dish cooked with pork meat. This time, the meat is cooked in spicy water and then fried in the same pork fat. It is served with llapingachos, boiled potatoes, corn, banana, onion, and tomato.
Chanfaina
Chanfaina is a typical dish of some specific points in Spain and some Latin American countries (Ecuador, Peru, Bolivia…). It can include multiple ingredients and ways of preparation. The base of this dish is lamb, cooked blood, onion, bay leaf, garlic, and chili pepper. You can add bread, beans, potatoes, noodles… And, especially in Latin America, it is accompanied with rice.
Llapingachos
Llapingachos are one of the most representative dishes of the highland cuisine of Ecuador and very important for Ecuadorian culture. These are small pancakes made with mashed potato dough and filled with cheese. They can be served with sausage, fried egg, peanut sauce, roast meat, lettuce, rice, avocado, pico de gallo, chili pepper… In the cities of Quito, Latacunga and Riobamba they are served with roast pork.
Tamales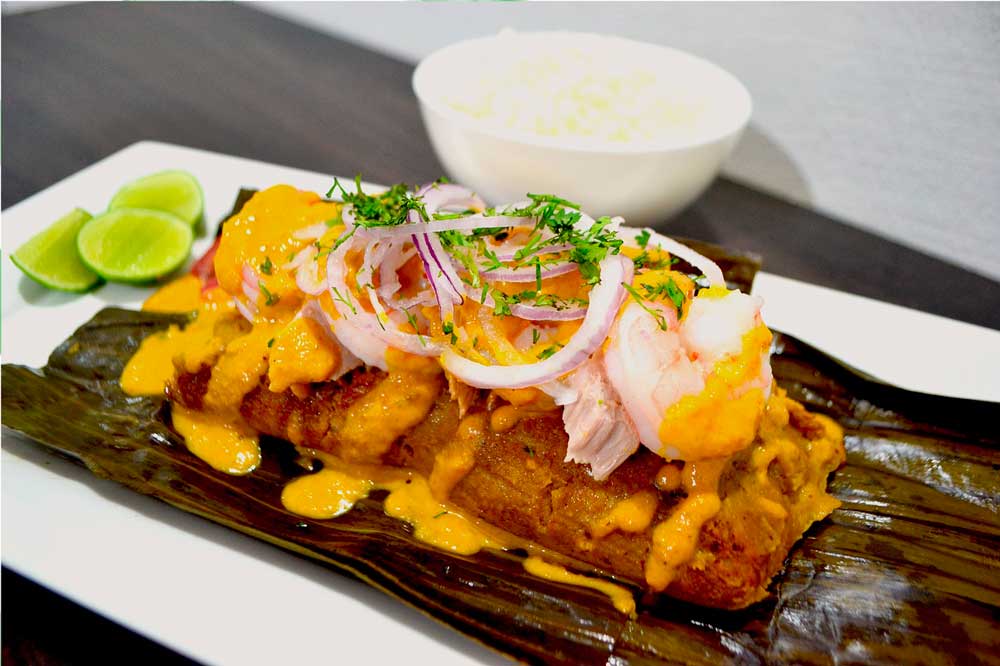 Ecuadorian tamales are a food prepared with dry corn dough. They are filled with vegetables, meat, chilies, sauces, and other ingredients. They are wrapped in a corn husk or banana leaf and cooked in water or steamed. Normally they are served with the leaf, but be careful, the leaf is not edible! They are usually served with coffee for breakfast or snack and with chili sauce to spread to taste.
Humitas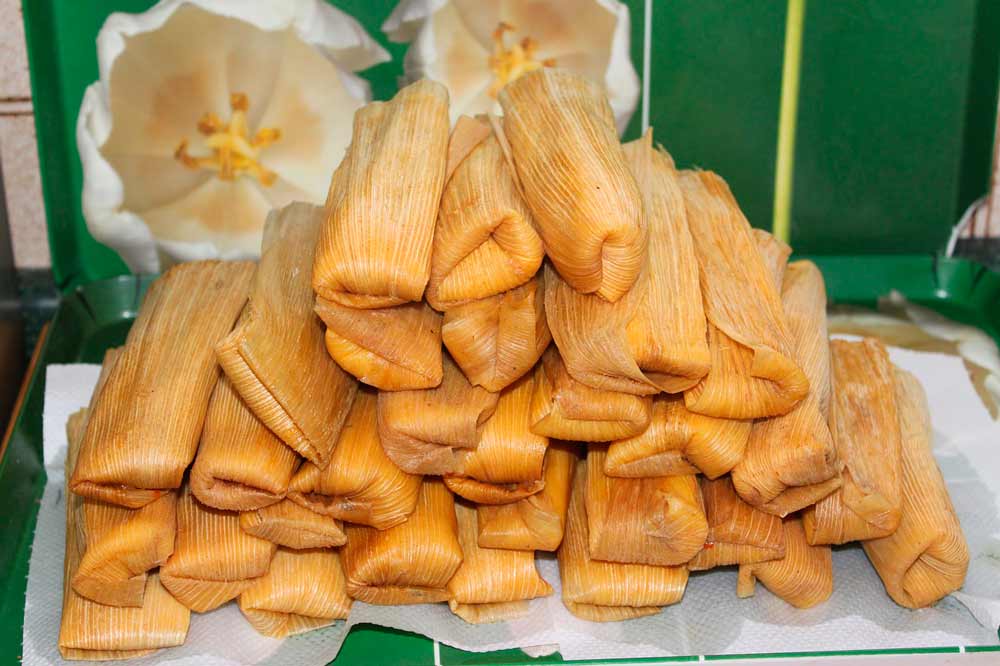 The origin of this typical dish is Peruvian, but it spread throughout the Andes. Ecuadorian humitas are small cakes that are prepared with tender corn and cheese. They are prepared wrapped in corn husks and steamed. They are very similar to tamales. They are also usually served with coffee for breakfast or snack. The leaf is also not eaten here.
Colada morada
Colada morada is a typical drink from Ecuador. It is usually consumed on November 2nd to celebrate the Day of the Dead. It is prepared with different fruits typical of Ecuador, spices, herbs, and purple or black corn flour. It is usually served accompanied by guaguas de pan (cookies), which usually have different shapes of drawings or figures.
Canelazo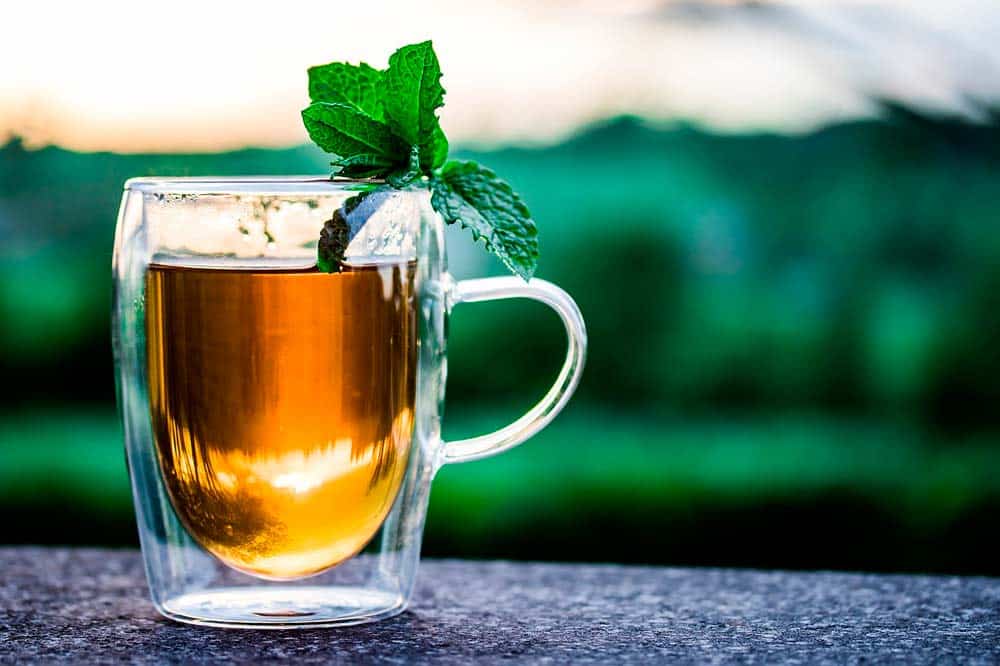 This is a typical hot drink from the Ecuadorian highlands. It consists of juice of naranjilla, blackberry and passion fruit with sugar cane and boiled with cinnamon. Sugar cane alcohol is usually added and it is commonly drunk at Quito's parties.
Amazon region

In this region of Ecuador, tropical recipes and a more natural style are more common. That is, many of the typical dishes of this area are made by wrapping the food in leaves.
Guayusa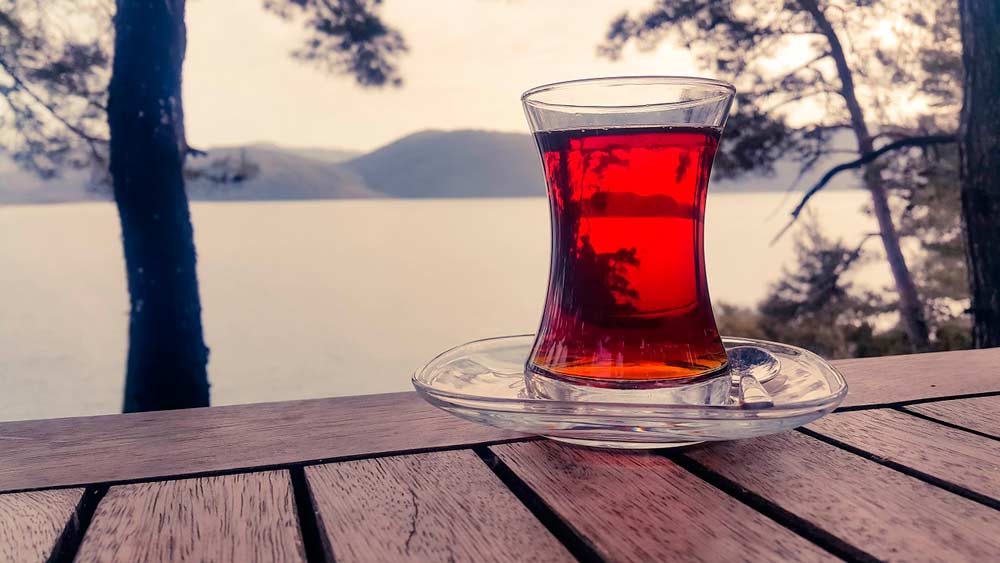 Guayusa is a plant that is similar to coffee and cocoa due to its properties and stimulant capacity. Its leaves are usually used to make infusions in the Amazon region of Ecuador.
Maito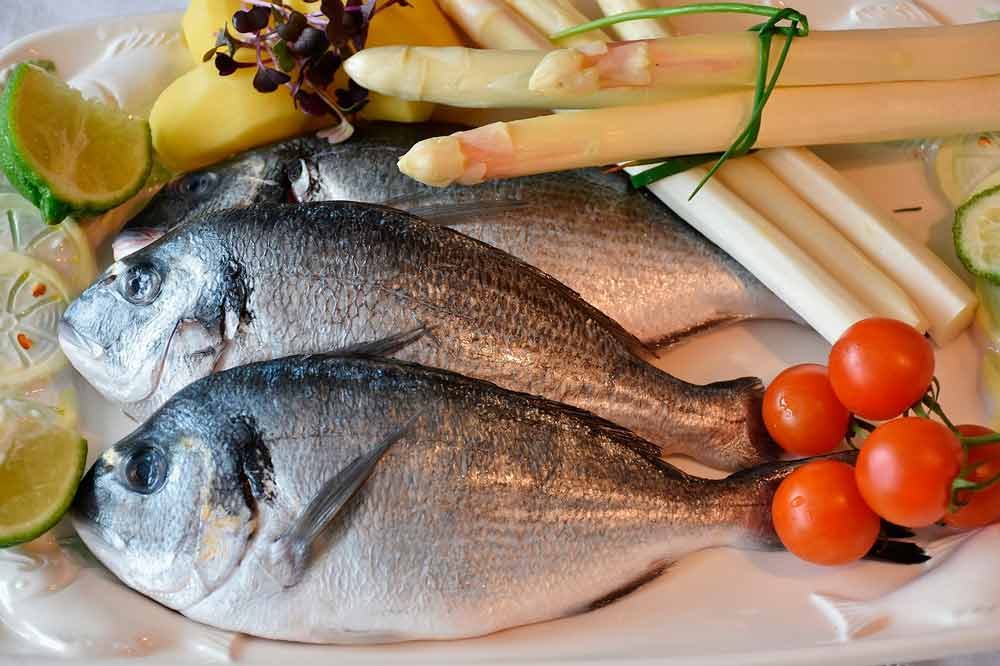 This dish is very popular in the Amazon region of Ecuador. It consists of wrapping a fish with a banana plant leaf and throwing it on the fire. It is served with ingredients like yucca, rice, or patacones.
Mushroom Ceviche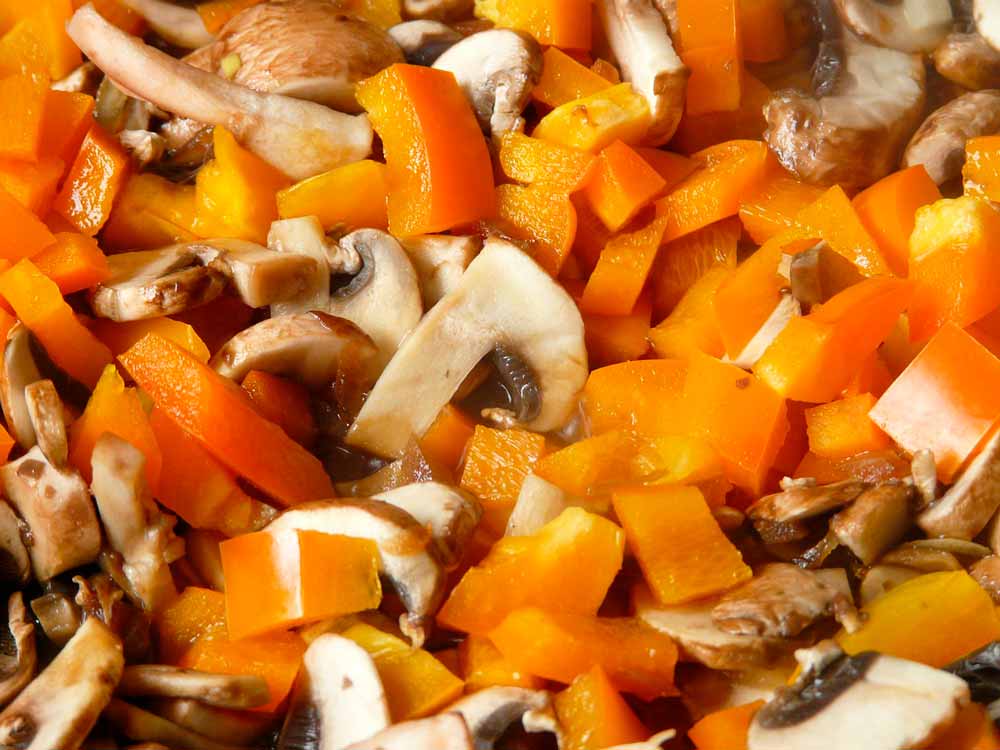 Mushroom ceviche is a dish similar to the ceviche we saw typical of the coast, except for the main ingredient: mushrooms instead of fish.
Chicha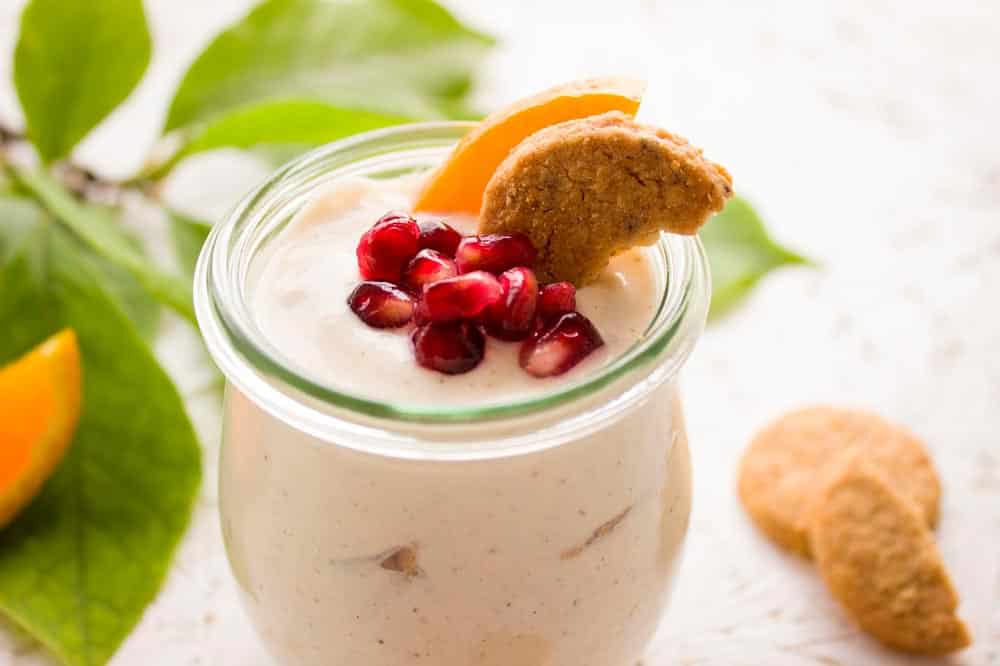 This is an alcoholic beverage derived from the non-distilled fermentation of corn and some cereals. This drink is typical of the Amazon region of Ecuador, where it is drunk by the indigenous people.
Ayampaco
In the Amazon region of Ecuador, there is a dish called Ayampaco that consists of filling bijao leaves with different ingredients such as onion, tomato, spices, and almost any type of meat. Once the ingredients are wrapped, they are grilled. In its origins, the main ingredient of this dish was fish.
We hope you have enjoyed the typical food of Ecuador. There are many more dishes that would be enough for several articles, but these are the main ones. Stay tuned to our  Cocina Casera website to learn more about these recipes in depth!
Among the ingredients of Ecuadorian cuisine are: potatoes, yucca, avocado, chili, corn, quinoa, yucca, plantain, and chocho beans. The guinea pig is a type of cavy or guinea pig that is served roasted or in stews and fried pork. The settlers brought new ingredients to Ecuador such as dairy products and cooking techniques to prepare soups or stews. As well as cheese and onion filled potato tortillas.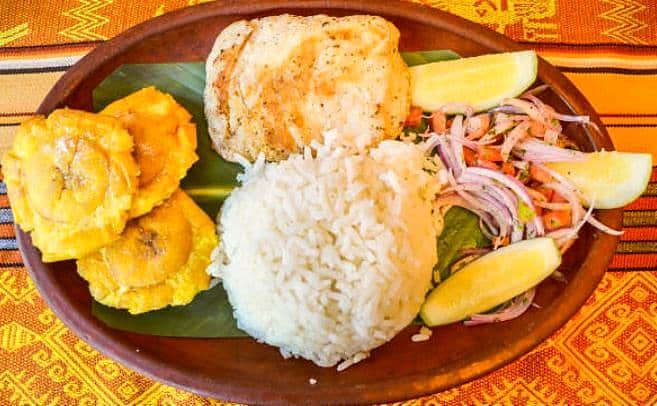 Rice is the typical accompaniment of many dishes, as well as beans or mashed potatoes. Among the most typical soups are the locro with potato and cheese and the 'green ball soup'. This soup is made with meat bones, cow's tail, and green plantain balls made with meat, chopped onion, and spices.
Food and typical dishes of Ecuador
Fish Encebollado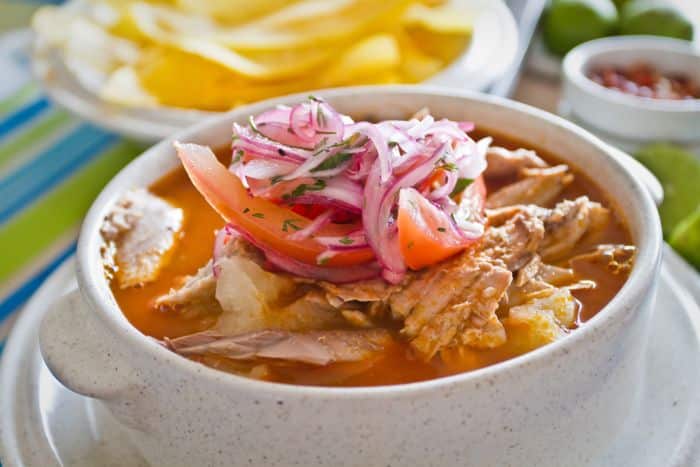 In encebollado is a traditional fish stew from Ecuador, typically enjoyed in the coastal region. It is made with fresh tuna, yuca, cassava, onion, tomato, and spices. It is served with pickled onions, which give the dish its name. Encebollado is consumed at any time of the day and is known as a remedy for hangovers after festivities.
Ceviche
This Peruvian dish is also very popular in Ecuador. Ceviche is a seafood or fish dish marinated in a tangy sauce with a citrus base. It uses lemon, lime, and small onions. The main ingredients can be shrimp, shellfish, octopus, or oysters. It can also be prepared with squid, corvina, or black clams. Ecuadorian ceviche is slightly denser than Peruvian ceviche but equally delicious.
Empanadas de viento
Empanadas de viento are very typical in Ecuador and are different from other Spanish empanadas such as Galician empanadas. They are filled with creamy cheese and make a very appetizing snack at any time of the day.
Pastel de choclo or humita
Choclo or humita is consumed in Ecuador as well as in other Latin American countries such as Peru or Bolivia. Choclo is a corn paste that is cooked in corn husks and steamed. It can be accompanied by cheese or other ingredients.
Churrasco
From Argentina to Venezuela, churrasco is a popular dish in South America. Churrasco is similar to barbecue. It is beef seasoned with olive oil, cumin, garlic and other herbs. In Ecuador, churrasco is a traditional dish that consists of grilled or grilled beef seasoned with herbs and spices. Ecuadorian churrasco is typically served with salad, white rice, eggs, and French fries, making it a hearty meal.
Cola morada and guaguas de pan
In Spain, it is traditional to have "huesos de santo" or "buñuelos" for the Day of All Saints. In Ecuador, typical treats are cola morada and guaguas de pan. Cola morada is a beverage made with flour, blackberries, strawberries, cinnamon, star anise, orange peel, pineapple, and other ingredients. There isn't a single recipe for cola morada, as there are variations. Guaguas de pan are sweet bread rolls made with flour, eggs, sugar, spices, and can be filled with guava, chocolate, or other flavors.
Come y bebe
What we call "macedonia" in Spain, a fruit salad full of vitamins and flavor. It is prepared with typical Ecuadorian fruits such as banana, mango, pineapple, or papaya. It includes orange juice and agave honey, and it is served in cups so that it can be eaten and drunk. There are different versions of "come y bebe" that add liquors like rum or aguardiente.
Roasted Cuy
The cuy is a guinea pig that has inhabited the central Andes region for over 7000 years. Over time, the rodent spread to other areas, such as the Ecuadorian Sierra. The cuy became a primary source of protein for the inhabitants of Ecuador. Today, this rodent is still consumed in large quantities, with over 50 million consumed each year.
It is prepared in various ways, from simple everyday recipes to more elaborate preparations for gourmet dishes. Roasted, grilled, baked, and fried cuy are the most common preparations of this rodent.
Pineapple cheese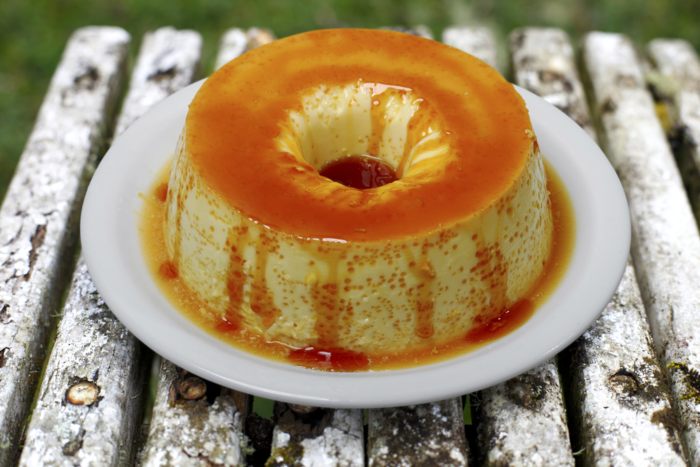 A homemade dessert very popular in the coastal region of Ecuador is called "queso de piña" (pineapple cheese), although it is actually a type of flan. The ingredients include eggs, condensed milk, fresh pineapple juice, sugar, two tablespoons of rum, one tablespoon of cornstarch, and whole milk.
Typical Ecuadorian Dishes in Video
https://www.youtube.com/watch?v=9MHPKmIZX_Q
Did you enjoy the article about Ecuadorian cuisine and typical dishes? Don't miss this one about:
Latest posts by Cocina Casera English
(see all)
Latest posts by Cocina Casera English
(see all)
What to eat today? Search by ingredient or recipes