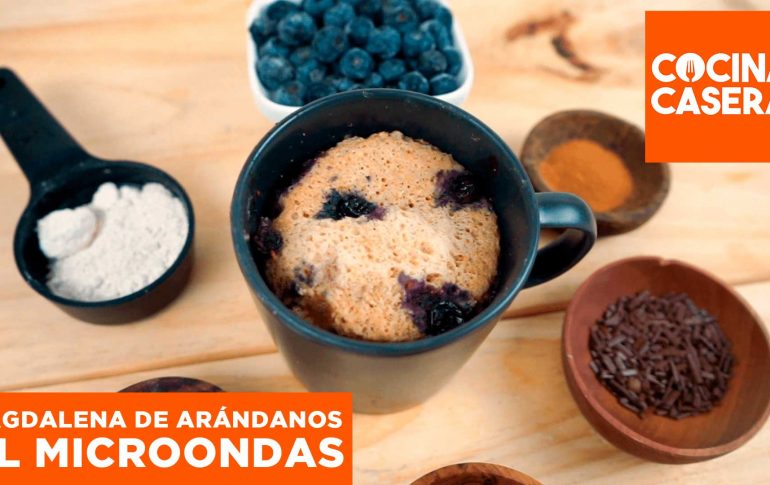 6 m
Calories: 75
Easy
1 person
Today we are going to show you a very easy and quick recipe to cook blueberry cupcakes in the microwave. You can make them whenever you feel like it in only five minutes!
In our dessert recipes, you will also find how to make other types of cupcakes and many other sweet dessert suggestions to make in the microwave, in the oven, or cold.
We have chosen blueberries as the complementary fruit because they are considered a superfood, due to their health benefits. Also, if you buy them from Kilometer 0, the months of April and May are the most productive of these red fruits. Being a seasonal product, they will be cheaper and you can enjoy their sweet and slightly sour flavor to the fullest.
You may think that making blueberry cupcakes in the microwave is not possible because we usually cook them in the oven, however, we are going to show you how to make them in the microwave and it will only take you 5 minutes. They won't have the shape of a traditional cupcake or muffin but they will still be just as delicious.
Try them and let us know!
Ingredients for Blueberry Mug Muffin for 1 person
Egg white - 1 unit
Honey - 2 tablespoons
Nutmeg - Half a teaspoon
Baking powder - Half a teaspoon
Flour - Quarter of a cup
Blueberries - 3 tablespoons
How to make the recipe Blueberry Mug Muffin
We start by putting the egg white in the cup or microwave-safe container that has been chosen. To do this, we carefully separate the egg white from the yolk. Then we put two large tablespoons of honey and mix everything very well with the help of a fork.
Next, we will put in the mixture that we already have in the cup, half a small teaspoon of nutmeg and the other half teaspoon of baking powder. We also add the quarter cup of oat flour or any other flour you prefer. And we mix everything well for a while until the mixture is homogeneous.
Now we add 3 large tablespoons of blueberries and mix everything again, being careful not to crush the blueberries too much. It is time to take the cup or container to the microwave. We will have it for 60 seconds at maximum power. As we always say, the time will depend on the power of the microwave.
Finally, we can decorate our microwave-made cupcake with icing sugar, cinnamon, cream, chia, or any other topping you prefer.
Notes and Tips
For the preparation of a blueberry cupcake, we will use a microwave-safe container. Any will be perfect, it also depends on the shape you want your cupcake to have! For example, we have used a cup that can withstand the temperature.
It is also important to take into account the power of the microwave to calculate the cooking time. It is a matter of trying and taking note of the times, so that the next time we make the recipe we are clear on what the optimal time is.
This way, we will get a spongy and flavorful blueberry cupcake, like the one we cooked today. It hasn't taken us 5 minutes to make it and we can make it on the spot, for breakfast or a snack.
Did it seem easy to you? Leave us a comment and tell us if you liked our blueberry cupcake recipe and what topping or coating you will add to yours to decorate them.
We recommend you to subscribing to our Youtube Channel so you don't miss any of our recipes. You can discover more healthy and easy-to-make recipes every week.
See you in the next Recipe!
Latest posts by Jose Balandin
(see all)
What to eat today? Search by ingredient or recipes