Cod with Chickpeas and Tomato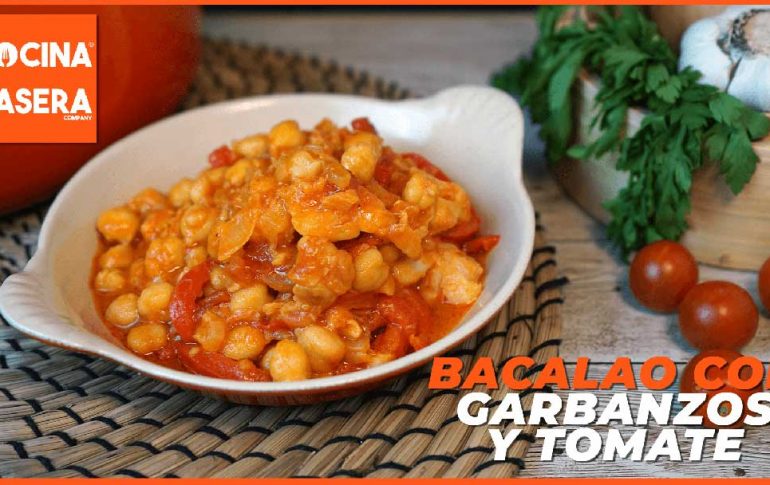 35 m
Calories: 350
Easy
2 people
xThe dish we want to teach you today is a traditional Cod with Chickpeas and Tomato. It is a healthy, delicious and very easy to make recipe.
We consider it a fish recipe because as you can see in the ingredients, it has more cod than chickpeas. It is another way to make the classic Lenten stew, rich in protein and without meat ingredients that were banned during Lent in other times.
In addition, cod is one of the lightest white fish, contains very little fat and is low in calories, making it an ideal food for maintaining a healthy diet and balanced weight. Nutritionally, it stands out as an excellent source of three very important nutrients that are not easily found in other natural foods. These are vitamin D, selenium, and omega 3. Selenium is essential for cell integrity. This mineral is not abundant in many foods. On the other hand, just 200 grams of cod covers 60 to 70 percent of the daily recommended amount of selenium.
For this recipe, we have used desalted and flaked cod loins. 
Also chickpeas are one of the most nutritious legumes and provide essential nutrients for the whole family, such as fiber, iron, protein, and vitamins. To make this recipe, we have opted to choose precooked chickpeas to go faster. You can also buy them natural, soak them in water overnight and cook them in a pressure cooker (or slow cook, although it will take longer), before starting with the recipe that we will show you next.
We hope that you like our recipe for Cod with Chickpeas and Tomato as much as we do!
Ingredients for Cod with Chickpeas and Tomato for 2 people
Flaked cod - 300 gr.
Precooked chickpeas - 150 gr.
Onion - 1 unit
Red pepper - Half unit
Garlic clove - 1 unit
Tomato sauce - 150 ml.
White wine - 30 ml.
Salt - 10 gr.
Olive oil - 20 ml.
How to make the recipe Cod with Chickpeas and Tomato
We start by putting the olive oil in a saucepan over medium heat. When it is hot, we add the chopped garlic and let it start to cook. Before it starts to turn brown, we add the chopped onion and stir, let it cook a for a few minutes until it release its water.
We incorporate the red pepper cut into strips and add a good pinch of salt. We let the vegetables cook for a few minutes and when we see that they are cooked, we add the precooked chickpeas. We stir well and let it cook for a couple of minutes.
Now we add the flaked cod to the saucepan and stir again. We put two tablespoons of white wine and raise the heat so that it evaporates well. Then, we lower the heat and finally incorporate the tomato sauce. We stir so that all the ingredients are impregnated. We cover the saucepan and let it finish cooking over medium low heat for approximately 10 minutes. We stir from time to time to make sure it doesn't stick.
Notes and Tips
Notes and Tips
Now that we have our cod with chickpeas and tomato sauce ready, we can serve it in a bowl or a pretty plate, and enjoy it.
We hope you liked the recipe, if so, let us know by leaving us a comment and sharing it on social media with your foodie friends and family.
And remember: Cooking yourself is more fun and healthy!
Latest posts by Jose Balandin
(see all)
What to eat today? Search by ingredient or recipes