Fried rice three delights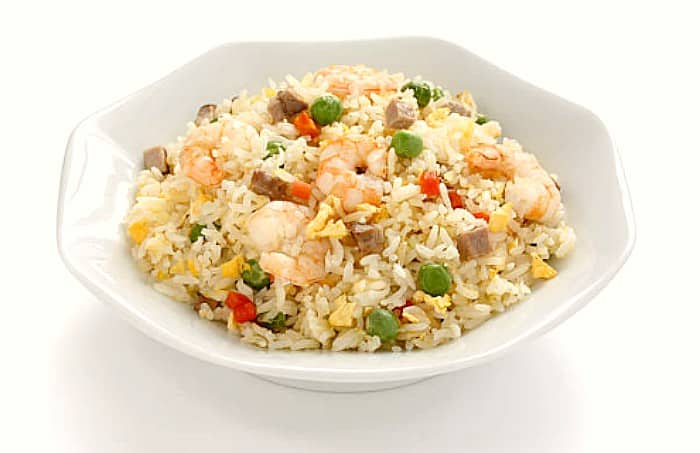 33 m
Calories: 160
Easy
2 people
Today we want to teach you how to prepare a very simple but delicious dish: Fried rice three delights recipe. You can find it in any Asian restaurant and now you can enjoy it by doing it at home. You'll see how easy it is to prepare!
It is one of the most popular rice recipes in the world. It started to be made as a home-cooked dish in China in 4000 BC and includes rice as the main ingredient. Over the years, the recipe has evolved into one of the most traditional dishes of Chinese food.
The story goes that when the first Chinese immigrants arrived in the cities of San Francisco and Los Angeles in the 19th century to work on the construction of the transcontinental railway in the US, they fostered the business of economical restaurants. One of the dishes they made was fried rice, for which they used what was cooked and not sold the day before.
But currently, the secret to a good dish of Oriental fried rice lies in the preparation of the rice and, in a precise and homogeneous cut of the vegetables. The type of rice is also important and it is best to choose some Asian type. But as important as the type of rice is the fact that it has rested for 24 hours, which will give it a special texture and flavor.
Are you ready to prepare an exquisite dish of Oriental fried rice with us? Put on your apron and let's start.
Ingredients for Fried rice three delights for 2 people
Rice - 300 gr.
Frozen peas - 150 gr.
Peeled shrimp - 180 gr.
Garlic cloves - 2 units
Red pepper - Half a unit
Eggs - 2 units
Soy sauce - 15 ml.
Sunflower oil - 60 ml.
Water - 600 ml.
How to make the recipe Fried rice three delights
We start by washing the rice in cold water so that it loses starch and becomes looser. When we see that the water is already clean, we reserve the rice. Now we put a pot on the fire with 600 ml of water and when it boils, we add the rice and cook over medium heat for 15 minutes. When this time has passed, we cover it and let it rest for 4 more minutes. Then reserve it.
We put a frying pan on the fire and pour in a drizzle of sunflower oil. When hot, we add the two unpeeled garlic cloves, cut in half. Then we incorporate half a finely chopped red pepper and let it all fry. When it gets color, we remove the garlic cloves and add the shrimp. These should be well dried, with kitchen paper, and cut into pieces. We stir-fry for a couple of minutes and remove everything to use later.
In a bowl, we put the two eggs and beat with a fork. In the same frying pan that we used before, we put another drizzle of sunflower oil and incorporate the beaten eggs with a drizzle of soy sauce. We set it by stirring. We don't need a perfect omelet, the eggs just need to be well set since we will cut them into pieces later. Remove and reserve.
Again in the same frying pan, we incorporate another drizzle of sunflower oil. We put the rice and the peas, and stir-fry everything
Again in the same frying pan, we add another drizzle of sunflower oil. We put the rice and the peas and stir-fry everything while moving the pan. We add a tablespoon of soy sauce and finally incorporate the shrimp with the pepper and the omelet cut into pieces. We move and mix all the ingredients well.
Notes and Tips
This rice can also be cooked with pieces of ham or chicken breast because there is not a single recipe for Oriental fried rice.
In fact, there are dozens of varieties of fried rice, each with its own specific list of ingredients. In addition, this dish can have several denominations such as Chinese rice, Cantonese rice, or chaufa rice in Peru
We hope you liked our Oriental fried rice recipe, if so, let us know by leaving us a comment and share it through social networks with your most cooking friends and family.
Cooking yourself is much more fun and healthy.
Until next time Foodies!
Latest posts by Jose Balandin
(see all)
What to eat today? Search by ingredient or recipes