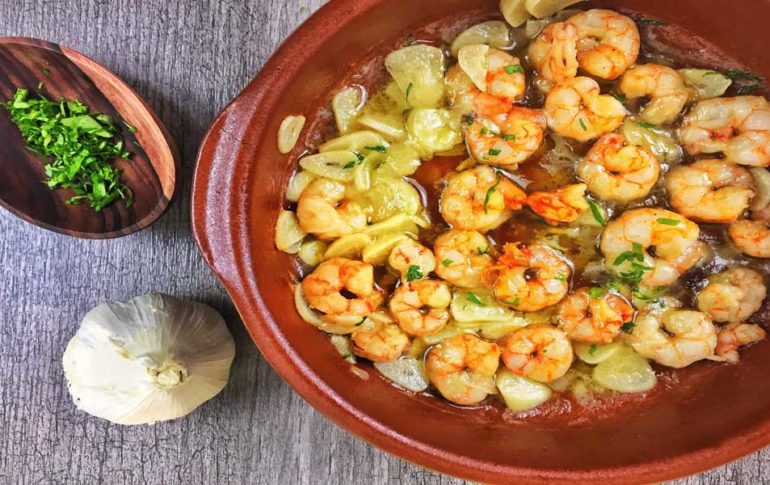 15 m
Calories: 304
Easy
2 people
This Garlic Shrimp is one of the most popular and traditional dishes of Mediterranean cuisine. With its intense flavor and easy preparation, it is a dish that has won the hearts of many food lovers. It is said that its origin dates back to the time of the Romans, when garlic and wine were used to season seafood dishes.
When preparing Garlic Shrimp, it is important to keep in mind some key tips and tricks that we will provide after the recipe. Don't forget to read them!
If you are looking for an easy, quick and delicious dish to impress your guests or just to enjoy at home, then don't hesitate to try this Garlic Shrimp recipe. We guarantee you won't regret it!
Ingredients for Garlic Prawns for 2 people
Cooked prawns - 300 grams
Garlic - 4 cloves
Cayenne - 2 chillies
White wine - 1/2 glass
Extra virgin olive oil - 1/2 glass
Salt - 1 pinch
How to make the recipe Garlic Prawns
We will use frozen prawns, in this case, because we don't want to be in the kitchen for too long. But if you have bought them fresh, you just have to throw the head away and freeze them for another day to make, for example, a broth. And remove the tail, but this is to taste.
We place the prawns in a bowl and cover them with water and half a glass of white wine and let them rest for one or two hours.
Once this time has passed, we will prepare them on the same plate that we will eat them on. In this case, we have used a clay plate, but you can make them in a separate frying pan and then serve them hot.
We pour a little olive oil and also the sliced garlic and cayenne, until it begins to brown over low heat.
Next, we add the already drained prawns and turn up the heat and pour a little of the broth, where the prawns have been soaking.
In the case that they are very thick, we add a little more broth. Add a little salt and serve them very hot, being careful not to burn ourselves. And remember to remove the cayenne!
Notes and Tips
Use a good dry white wine: Dry white wine is a key ingredient in this recipe, so make sure to use a wine that is not of the worst quality. Avoid using cheap wine or vinegar-tasting wine, as this can ruin the final flavor of the dish.
Don't overcook the shrimp: Shrimp cook quickly, so it is important to avoid overcooking them to maintain their soft and tender texture. Cook them only until they are red and cooked, approximately 3-4 minutes per side.
Use a large skillet: It is important to use a large skillet so that the shrimp have enough space to cook evenly.
Trick: If you want to give it an extra touch of flavor, add a little freshly chopped parsley at the end of cooking. It will give it a delicious touch!
Latest posts by Jose Balandin
(see all)
What to eat today? Search by ingredient or recipes