Grilled Fish With Salsa Verde (green sauce)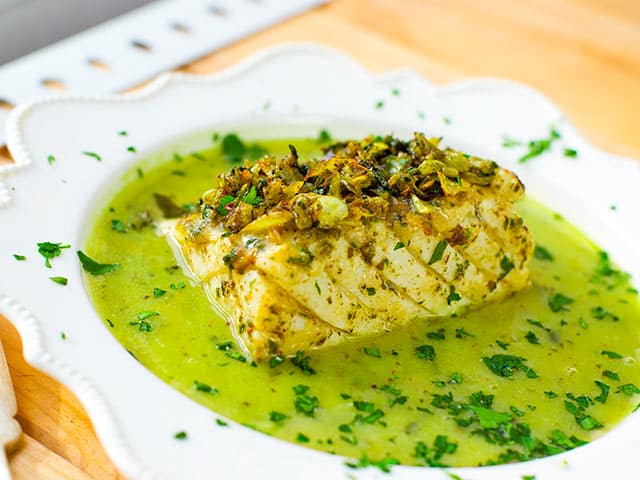 25 m
Calories: 150
Medium
2 people
The Green sauce is one of the most typical sauces from the Basque Country, in the north of Spain. It is very simple, easy to make and delicious.
It is used for both fish (especially cod, hake, monkfish, or whiting) and some seafood, such as clams or cockles, and today we will use it as a accompaniment for some fresh cod loins. Delicious!
We hope you enjoy this green sauce cod recipe, and if you're looking for more cod recipes, we have many more to offer you.
Ingredients for Grilled Fish With Salsa Verde (green sauce) for 2 people
2 fresh cod loins without skin or bones, about 600 grams each
Powdered garlic
Fresh chopped parsley (a bunch)
Chopped dried parsley (plenty)
4 tablespoons of flour
Water (about a liter)
Salt to taste
Olive oil
A jar of asparagus tips (about 8 pieces)
2 hard-boiled eggs
100 grams of peeled shrimp
150 grams of fresh clams or cockles
How to make the recipe Grilled Fish With Salsa Verde (green sauce)
In a large and not too flat frying pan, we put six tablespoons of olive oil, abundant garlic powder and dried parsley, the flour, and put it on the stove, stirring constantly with a wooden spoon, and gradually adding water and salt to taste, until we get a considerable amount of sauce, in which the cod will be cooked, and with a light texture and without lumps.
We cut each cod loin into two parts, salt them, and introduce them into the sauce without removing from the heat.
If we want to add clams, cockles, and/or shrimp to the dish, we also introduce them into the sauce along with the loins.
We will cook them for about 7-8 minutes, until the cod and shrimp meat lose the transparency of raw fish and turn white, and the clams and/or cockles open.
At this point, if desired, we will add the asparagus tips (white or green, to taste), and the two hard-boiled eggs cut in halves. We let it continue cooking for two more minutes. Serve.
Notes and Tips
When serving, sprinkle with some freshly chopped parsley.
And if we have decided to accompany the cod with hard-boiled egg, asparagus, shrimp, clams, and/or cockles, we will make sure that each dish is more or less equal, and with the same number of ingredients (for example: two asparagus, half a hard-boiled egg, etc.).
Latest posts by Jose Balandin
(see all)
What to eat today? Search by ingredient or recipes