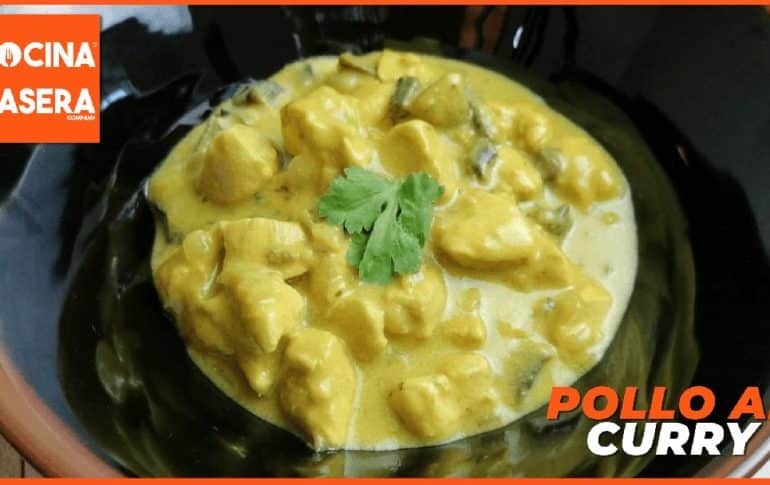 35 m
Calories: 210
Easy
4 people
Today we want to show you how to cook a delicious dish of chicken curry. You will see that the recipe is very simple and it won't take you much time.
When selecting the part of the chicken to cook this dish, we recommend that you opt for the breasts. Within our chicken recipes section, you will find one in which we explain how to debone a chicken, in case you prefer to buy the whole piece and make different preparations.
The key to cooking quickly and efficiently is in the previous preparation of the ingredients and the order. That is why, before starting to cook, try to have all the utensils you will need nearby. It will also be easier for you if you have the chicken at room temperature and start by cutting the breasts into bite-sized pieces. This is what is known in gastronomy as mise en place, that is, organizing and arranging the ingredients that a cook will need for the menu they are going to prepare.
Keep in mind that to make this chicken curry, you can add the vegetables you like the most. However, we won't lie to you, this dish is not entirely light. It is common to add coconut milk or cream, two fairly caloric products. So if you feel like preparing it, we hope you enjoy it.
Ingredients for Indian Chicken Curry for 4 people
2 chicken breasts
1 Onion
1 clove of garlic
several mushrooms
125 ml of coconut milk
60 ml Olive oil
83 ml White Wine
1 teaspoon of flour
30 gr curry
Salt to taste
How to make the recipe Indian Chicken Curry
To start, we peel and chop the onion, clean and cut the mushrooms and chop the garlic.
Remove the skin and excess fat from the chicken breasts, cut into strips and then into cubes.
In a saucepan, we pour the olive oil and let it warm up, then we add the chopped onion and garlic. We cook it for a few minutes and then add the mushrooms until they are slightly browned.
Now it's time to add the diced chicken and a pinch of salt.
We let the chicken cook for a few minutes and then we should add the white wine and let it evaporate a bit.
Then we add the curry and a teaspoon of flour, stirring to mix well and thicken the sauce.
Finally, we add the coconut milk and let it cook until all the flavors are well integrated and the chicken is tender. To do this, we will have to let it cook for about 15 minutes, stirring from time to time.
Notes and Tips
And now we have our chicken curry ready!
Did you see how simple the recipe is? We hope you liked it. You can leave us your opinion through the comments, and if you liked it, you can share the recipe through social networks with your foodie friends and family.
And remember, doing it yourself is more fun and healthy. Until next time Cooks!
Latest posts by Jose Balandin
(see all)
What to eat today? Search by ingredient or recipes