Legume Salad (Easy & Healthy) Recipe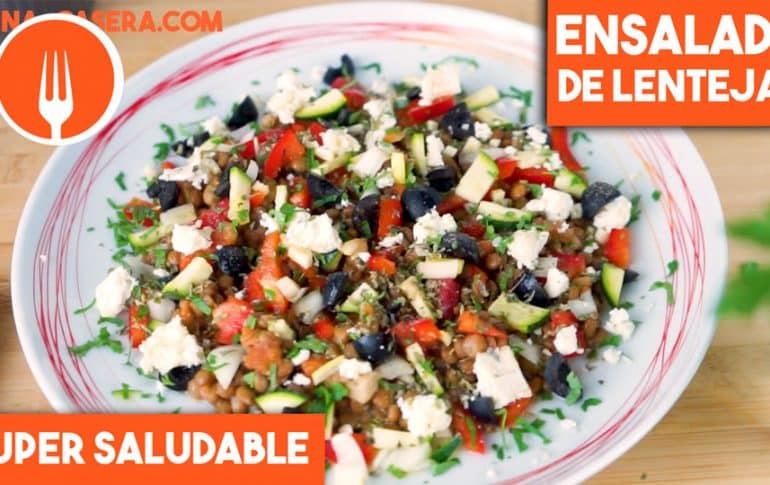 15 m
Calories: 170
Easy
2 people
Today we bring you a very original recipe that won't leave you indifferent: A Legume Salad filled with iron, a dish where you will find all kinds of essential and basic nutrients for your body. You will increase your fiber and iron levels with the minerals provided by traditional lentils, but in a more 'fun' and 'fresh' way by combining them with vegetables that will give us more vitamins, fiber and minerals.
The importance of iron in our body

When your blood iron levels are low, your health is in danger. You may feel more tired than normal and, therefore, you may fall into sedentary behavior and stay away from a active and healthy life. You may also experience fainting due to anemia and hinder the formation of hemoglobin in our blood, a protein that transports oxygen to tissues.
The best solution against iron deficiency is prevention. That is why consuming foods rich in this mineral is essential to avoid anemia and its adverse effects.
An important factor to consider is the ability of our body to absorb iron properly, as there are foods that facilitate it and others that hinder it. In the dish we propose today, in addition to lentils, we will also add vegetables such as zucchini, red pepper and parsley, rich in vitamin C, which will facilitate the absorption of iron in your blood. Conversely, if you can avoid consuming large amounts of tea, coffee or beer, it is much better, as they act as barriers to absorb this mineral so necessary for our body.
Nutritional contribution of lentils

Per 100 grams:
Energy (kcal): 304 kcal
Protein: 23.18 grams
Carbohydrates: 40.6 grams
Fiber: 17 grams
Fat: 1.7 grams
For each 100 grams of lentils, it provides 8.20 mg of iron, which translates into 102.5% of the daily recommended dose, which is usually between 8 to 18 mg in adults. In addition to this mineral, it also provides 58.7% of phosphorus and 41.9% of potassium necessary daily. In addition to minerals, lentils also provide vitamins. The most present are vitamins B1 and B2, which provide 39.2% and 16.2% of the daily recommended dose.
As you have seen, there are no excuses to start incorporating lentil-filled dishes into your life, like the one we present today. Let's start!
Ingredients for Legume Salad (Easy & Healthy) Recipe for 2 people
Canned lentils or your favorite Legume - 400 grams
Zucchini - 1/2 chopped piece
Chopped roasted red peppers - 1/2 cup
Chopped red onion - 2 tablespoons
Crumbled Greek feta cheese - 70 grams
Chopped olives - 8 pieces
Fresh chopped parsley - 1 and 1/2 tablespoons
Extra virgin olive oil - 3 tablespoons
Red wine vinegar - 1 tablespoon
Chopped garlic - 1 clove
Dried oregano - 1/3 teaspoon
Salt - 1/3 teaspoon
Ground black pepper - 1/4 teaspoon
How to make the recipe Legume Salad (Easy & Healthy) Recipe
We place the lentils, zucchini, red pepper, red onion, feta cheese, olives and parsley in a bowl.
Then we add the olive oil, vinegar, garlic, oregano, salt and pepper in a small screw-top jar and shake to mix the ingredients.
Finally we season our salad to taste and mix all the ingredients with the dressing et voilà!
Notes and Tips
This salad tastes best fresh and served immediately, but you can prepare more portions and store it in the refrigerator to enjoy it for more days as it keeps well. You can also add tuna, as it perfectly combines with the lentils and other ingredients we used. This way we will add healthy omega-3 fats and additional proteins to the mix and it will become a perfect super salad! That's all from us, until next time Cooking!
Latest posts by Jose Balandin
(see all)
What to eat today? Search by ingredient or recipes