Neapolitan Chicken Milanese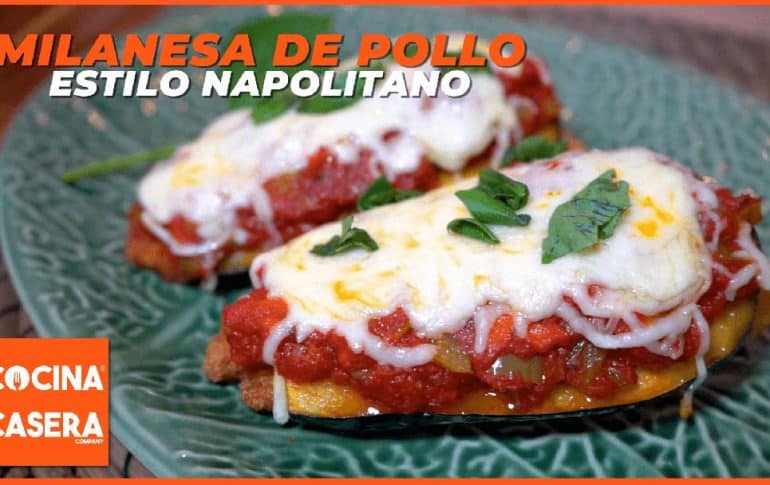 45 m
Calories: 355
Easy
2 people
Today we bring you a true delight, a Neapolitan Chicken Milanese in Neapolitan style. No one will be able to resist it! We'll also tell you the true origin of this dish, as it's not Italian despite its name. Also it's a nutritious and tasty recipe that won't take much time to prepare.
Milanesa is basically a breaded meat cutlet. It's usually made with beef, but in our chicken recipes, you'll find how to make a traditional chicken milanese, which you can serve with vegetable stew, cooked potatoes, or cauliflower with cheese.
In this case, our Neapolitan-style chicken milanese will include additional ingredients such as tomato, eggplant, and cheese. Depending on the type of milanese you want to prepare, you can add other vegetables, ham, or even fried egg.
As we said at the beginning, the origin of this recipe is not in the Italian city of Naples but in Argentina. Specifically, in the Nápoli restaurant owned by Jorge La Grotta in Buenos Aires. At the time, the dish was named milanesa a la Nápoli.
According to a legend about the history of this recipe, it came about casually when someone tried to improve an overcooked milanese by removing the burnt bread crumbs, covering it with tomato sauce, ham, and cheese, and then gratinating it in the oven.
However, according to the descendants of the restaurant owner, the recipe was created to combine other culinary customs of Italy, such as Neapolitan pizza and Milanese cotoletta, breaded veal cutlet. From there, the first Neapolitan-style milanese was born, which was topped with tomato and basil sauce. Other restaurants started copying the idea and adding other ingredients, which led to it being called a la napolitana.
Are you ready to prepare our healthier version of Neapolitan-style chicken milanese? Let's get started!
Ingredients for Neapolitan Chicken Milanese for 2 people
Chicken breasts - 2 units
Flour - 50 gr.
Bread crumbs - 150 gr.
Egg - 1 unit
Salt - 10 gr.
Ground black pepper - 10 gr.
Eggplant - 1 unit
Chopped carrot - 1 unit
Chopped green pepper - 1 unit
Crushed natural tomato - 200 gr.
Grated cheese - to taste
Salt - 10 gr.
Black pepper - 10 gr.
Oregano - 10 gr.
Extra Virgin Olive Oil - 260 ml.
How to make the recipe Neapolitan Chicken Milanese
We start by preparing the tomato sauce. For this, we'll heat a splash of oil in a deep pan. Then we'll add the chopped onion and sauté for 2 or 3 minutes.
After that, we'll add the carrot and pepper. Once all the vegetables are sautéed, we'll add the crushed tomato sauce on low heat. We'll add salt, pepper, and oregano. Let the sauce simmer for 10-15 minutes until it thickens, and set aside.
Next, we'll cut the eggplant into slices and coat them with flour on both sides. We'll fry them in a pan with plenty of extra virgin olive oil over medium heat to avoid burning the flour. Set aside.
On the other hand, we'll season the chicken breasts well with salt and pepper. To bread them, we'll first coat them with flour, then egg, and finally bread crumbs. Repeat the process with the other chicken breast. In the same pan where we fried the eggplant, we'll fry the two chicken breasts until they are golden brown on both sides.
Finally, we'll assemble our milanese on a baking tray. We'll place the chicken breasts first, then the eggplant slices, followed by the homemade tomato sauce and a good layer of grated cheese, to taste. We'll put it in the oven to gratin until the cheese has melted.
Notes and Tips
To finish decorating the Neapolitan-style chicken milanese, we can tear basil leaves by hand to release more aroma and place them on top of the melted cheese.
Don't you think this recipe is finger-licking good? If so, don't forget to leave us your comments and share this recipe through social media with your foodie friends and family. They'll surely love it too!
See you soon, Cocinacas!
Latest posts by Jose Balandin
(see all)
What to eat today? Search by ingredient or recipes