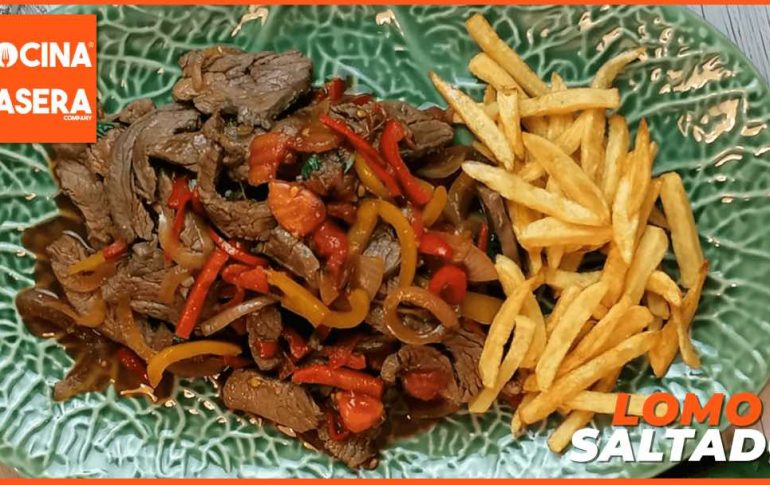 45 m
Calories: 150
Easy
2 people
Today we are going to show you how to prepare Peruvian Beef Stir Fry, a delicious and simple recipe. If you're a fan of beef and flavor, we guarantee you won't stop cooking it.
This is one of the most elaborate meat dishes in Peru, its country of origin.
Peruvian Beef Stir Fry was born from the influence of the Chinese-Cantonese and contains the seasoning and mixture of Peruvian Creole cuisine with the oriental one. This is demonstrated in the use of pan-frying technique.
There are many variants introduced into this dish, because depending on taste, some ingredients have been replaced by others. Sometimes the Sillao ,as soy sauce is called in Peru. and a splash of Pisco, a typical Peruvian drink, a grape brandy, are the perfect touch to bring a piece of this delicious delicacy to your mouth.
The dish itself consists of beef, accompanied by cooked rice and potatoes that are usually fried. In addition, you should keep in mind that the meat should be cut into strips.
Do you already have all the ingredients prepared? You can see them below and follow our steps to prepare this delicious dish. We hope you like it!
Ingredients for Peruvian Beef Stir Fry for 2 people
Beef tenderloin - 300 gr.
Onion - 1 unit
Pepper - 1 unit
Yellow chili pepper - 1 unit
Tomato - 1 unit
White wine vinegar - 5 ml.
Garlic powder - 10 gr.
Cumin - 10 gr.
Oregano powder - 10 gr.
Salt - 10 gr.
Olive oil - 60 ml.
Soy - 60 ml.
Beef broth - 65 ml.
Fresh cilantro
How to make the recipe Peruvian Beef Stir Fry
We start by marinating the meat: we put it in a bowl and add garlic powder, cumin, oregano, salt, vinegar and mix well so that the meat is impregnated with all the spices. We cover the bowl with a clean, dry cloth and let it rest for half an hour.
In a frying pan over high heat we put the olive oil, add the already marinated meat and stir-fry for a few minutes. Remove and reserve.
In the same pan we put the onion cut into julienne, let it cook for 1 minute and add the pepper and chili, cut into strips. Then we add the tomato cut into cubes and let all the vegetables cook for 5 minutes.
We add the soy sauce and beef broth. We let the sauce reduce and the vegetables take on flavor for 3 or 4 minutes.
Finally we incorporate the beef and stir well. To finish, we add some fresh cilantro leaves.
Notes and Tips
We now have our Peruvian Beef Stir Fry ready to serve!
Remember that the original dish includes fries and if you want, you can also include cooked rice. Here you can see how to cook rice so that it turns out perfect.
We hope you liked the recipe, if so, let us know through the comments. And if you want, share it with your foodie friends and family.
Sure they will thank you because cooking for yourself is much more fun and healthy.
Until next time Foodie Friends!
Latest posts by Jose Balandin
(see all)
What to eat today? Search by ingredient or recipes