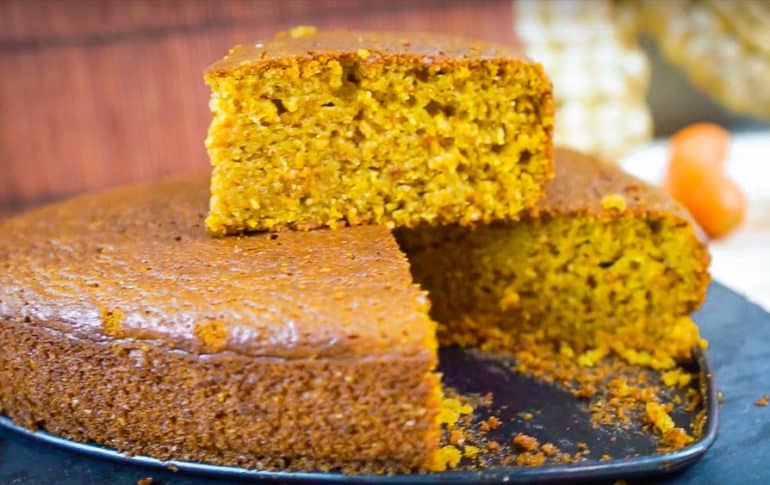 1 h
Calories: 415
Easy
4 people
Today we are showing you a healthy and sugar-free dessert. We are going to prepare: Carrot Cake without White Sugar.
This recipe contains panela, which is a 100% natural product. It is considered the authentic cane sugar. Its only ingredient is sugar cane juice. And that is the reason why it is such a natural product.
Let's go with the recipe for Carrot Cake without White Sugar!
Ingredients for Sugar-free Carrot Cake for 4 people
Eggs - 3 pieces
Carrots - 3 pieces
Olive oil - 100 ml
Whole wheat flour - 200 grams
Panela - 170 grams. Or any other healthy substitute for refined white sugar.
Natural yogurts - 2 pieces
Ground cinnamon - 1 tablespoon
Baking powder - 1 large tablespoon
How to make the recipe Sugar-free Carrot Cake
The first thing we will do is grate the carrot.
In a separate bowl, we will add the eggs and beat them.
Then, we will add the olive oil, yeast, panela and ground cinnamon. And we will beat and mix everything together.
Once we have those ingredients mixed, we add the grated carrots and stir again.
Then, we will add half of the sifted flour, so that the mixture is more homogeneous and without lumps.
And the other half, we add it whole, without sifting, so that it also contains part of the fiber of the whole wheat flour. And we mix everything very well.
Then, we add two yogurts.
Once we have everything well mixed, we pour it into a cake dish or mold. To prevent sticking, we previously grease the dish with olive oil.
And we put it in the oven for about 40 minutes. The oven must be preheated to 180° C or 355° F. The trick to check if the cake is ready or not is to stick it with a thin knife or a metal skewer and if it comes out dirty, it is still too raw to take it out of the oven.
And finally, be careful with the impatient ones. Because once taken out of the oven, we must wait for it to cool down so that it has a good consistency and is perfect to eat.
Notes and Tips
What do you think? Did you like the recipe? We hope you like it because we put a lot of time and effort on making them.
And remember, in COCINA CASERA you have new recipes every week. Who gives more? Ciao Foodies!
Latest posts by Jose Balandin
(see all)
What to eat today? Search by ingredient or recipes