Try Boiled Eggs Recipe for Your Kids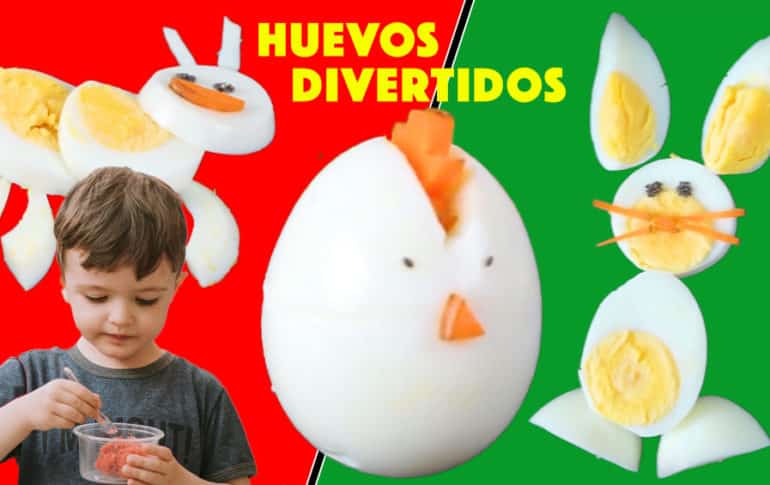 20 m
Calories: 125
Easy
2 people
Today we are going to teach you some super original recipes. With them, it will be impossible for your kids to refuse hard-boiled eggs.
Let's prepare: Recipes for Kids with Hard-Boiled Eggs.
Ingredients for Try Boiled Eggs Recipe for Your Kids for 2 people
Eggs - 4 or 5 eggs
Carrot - 1 small piece
Chia seeds - a handful
How to make the recipe Try Boiled Eggs Recipe for Your Kids
To make this recipe, we need to boil 5 eggs in water. To do this, fill a pot with water, add the 5 eggs and wait for it to boil. Once it starts boiling, cook the eggs for about 10 minutes.
Once the eggs are cooked, take them out and wait for them to cool down a bit. Here we are going to teach you a trick to peel them easily. Simply roll them on a flat surface for a few minutes. You will see how easy it is to peel them after that.
Little Hen
The first thing we are going to make is a little hen. To do this, cut a slice of carrot and make a zigzag to imitate the hen's crest.
Cut a small slice off the top of the egg where we will place the crest. Then make the beak with one of the leftover carrot triangles and finally, make the eyes with chia seeds.
Ant
Now we are going to make a super simple ant. Cut an egg into slices. Place the slices on top of each other on a plate.
To make the legs, cut another egg into slices and cut those slices in half again. Remove the yolk and place them in this way, imitating the legs of ants.
We will also cut some long pieces to make the antennas. And finally, we put the eyes with chia seeds and the mouth with half a slice of carrot.
Bunny
The last recipe will be a bunny. Cut an egg in half vertically, and also cut one of those halves in half. This will form the body and the ears.
Then cut another egg horizontally and cut a slice to make the bunny's head. We will also cut one of these pieces in half again to make the legs. Place everything on a plate, giving it the shape of a bunny.
And finally, we place the nose and whiskers made of carrot and the eyes made with chia seeds.
Notes and Tips
Did you like the recipe? If so, help us out by giving us a like, sharing it with a foodie friend, and don't forget to subscribe to the channel and hit the bell so you don't miss anything.
And don't miss the video we'll be publishing next week. Remember, at Cocina Casera, there's a new video every week. Who offers more? Ciao Foodie Friends!
Latest posts by Jose Balandin
(see all)
What to eat today? Search by ingredient or recipes