How to Store Parsley fresh for long time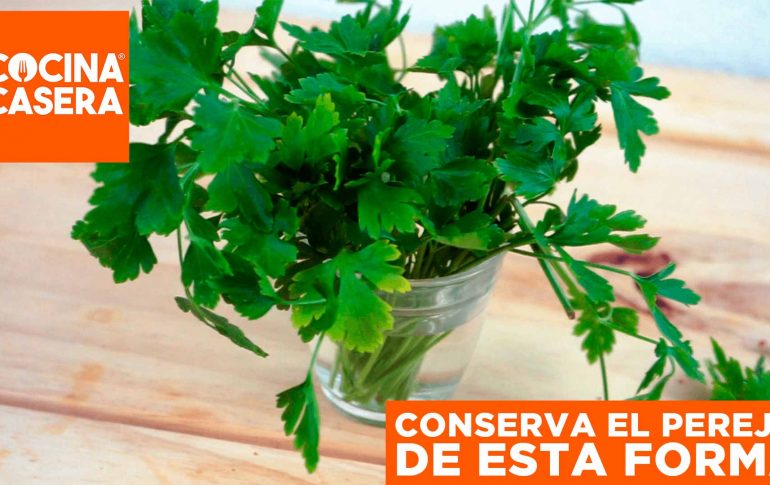 6 m
Calories: 36
Easy
4 people
Hello Cooking Fans! Are you tired of buying parsley and it not lasting more than 3 days fresh? Today we're going to tell you a trick to preserve parsley so you can use it in many of our recipes.
This is one of many other cooking techniques we publish weekly to help you keep all your products in good condition for as long as possible.
Parsley is an aromatic herb widely used in cooking, in small proportions, to season and also decorate your dishes. Some of the most frequent uses it is usually given is in dressings garlic, parsley and oil and sauces for fish such as baked sardines; in salads or broths, such as chicken broth; and even in teas and purifying drinks, such as this green detox gazpacho.
It can be consumed dry or fresh, in both cases without losing its properties. In another of our articles we already told you how to quickly dry parsley in the microwave and now it's time to learn how to preserve fresh parsley for much longer.
Ingredients for How to Store Parsley fresh for long time for 4 people
Fresh parsley - 100 gr.
Kitchen cling film
Kitchen paper
Water - 1 glass
How to make the recipe How to Store Parsley fresh for long time
We start by rolling the parsley bunch in kitchen paper and then soaking it well with the water. It is about gradually wetting the paper, with your hands, letting the drops fall.
When we have it wet, we will roll that same bunch of parsley and kitchen paper, with the cling film. The leftover from the bottom part, we will fold it up, trying to stick it.
And finally, we will put it in the refrigerator so it lasts longer. The ideal is to put it vertically in a glass or if not, lie it horizontally.
With this method we will get it to last fresh for at least 8 days.
Notes and Tips
Notes and Tips
To store parsley in the refrigerator, we recommend that it be in the same area where the fruits and vegetables are stored.
We hope this trick is useful to you and you can preserve fresh parsley for longer. If you know any other method, don't hesitate to tell us through the comments. We would love to know how you usually preserve parsley and in what dishes you use it!
With parsley you can cook many of our recipes, such as garlic bread to accompany your starters. It's one of our favorites, tell us which one is yours.
See you soon Cooking Fans!
Latest posts by Jose Balandin
(see all)
What to eat today? Search by ingredient or recipes